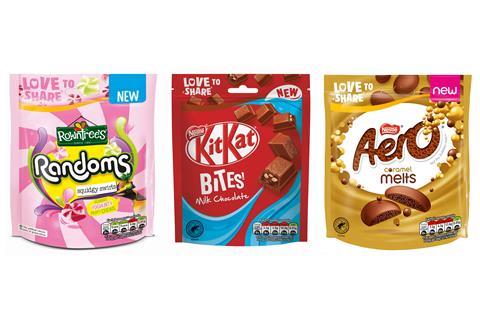 Confectionery giant Nestlé has unveiled KitKat, Aero and Rowntree's sharing bags for Spring 2022.
KitKat Bites are chocolatey-filled crispy wafer pieces in a milk choc shell. The 90g sharing bags (rrp £1.59) are currently available in Booker, and will roll out to other wholesalers from April. A Chocolate Caramel variant (rrp £1.59) is exclusive to Tesco and Booker.
The product is described as a grown-up twist on Kitkat and is suited to evening indulgence during a family film night or after dinner treat.
The brand is also introducing KitKat 2-finger White, which is available in multipacks of 9 (rrp £1.99), and KitKat 4-finger Orange, which has an rrp of 70p for a 41.5g bar. The latter is also available in a multipack of 4 x41.5g bars (rrp £1) exclusively from Cooperative stores until May and then from supermarkets nationwide.
The entire KitKat range is made using 100% certified sustainable cocoa, sourced through the Nestlé Cocoa Plan in conjunction with Rainforest Alliance and contains no artificial colours, flavours or preservatives.
Aero Melts sees the brand's famous bubbly chocolate in a new button format and is available in Milk Chocolate (92g, rrp £1.59) and Caramel (86g, rrp £1.59) sharing bags.
Meanwhile, Rowntree's welcomes Randoms Squidgy Swirls - an assortment of fruit and yoghurt-flavour jellies in Blackcurrant; Strawberry; and Apple varieties (all 130g sharing bags, rrp £1.59).