Nestlé Confectionery is launching single packs of Smarties Llama edition exclusively in the convenience channel.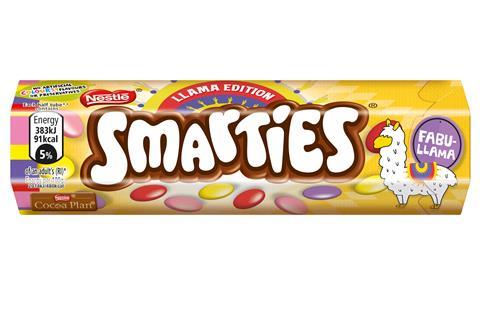 Available now with an rrp of 55p, the product comes in the brand's well-known hexagonal tubes and features brightly coloured packaging to differentiate the sku from the rest of the Nestle portfolio.
Smarties Llama edition also features a mix of pink, yellow, red and purple Smarties chocolates and follows on from the launch of Smarties Unicorn edition in the UK in spring 2018.
Alberto Pisanello, assistant brand manager for Smarties at Nestlé, said: "We were quite taken aback by the love for our Unicorn Edition Smarties last year and we want to replicate that success with new Smarties Llama Edition.
"2018 was the year of the Unicorn and trendy apparel, accessories and all kinds of food and drink appeared around the world featuring the pastel hues of the mythical creature. Last spring Nestlé introduced Smarties Unicorn Edition and the mix of pale pink and blue Smarties turned out to be a huge hit among chocolate lovers, baking aficionados and Instagram influencers alike."