Nestlé is bringing the flavour of Japan to the UK convenience channel this summer with the launch of Kitkat Green Tea Matcha.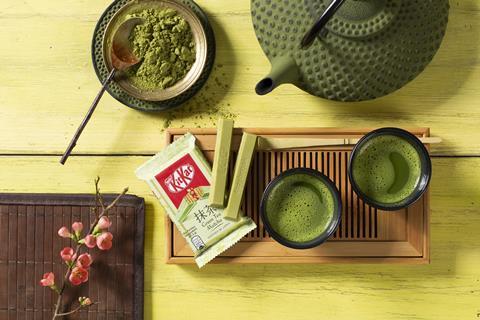 The product is inspired by one of more than 350 Kitkat varieties that have launched in Japan over the years and follows requests from shoppers to make innovative Kitkat flavours available to people across the world.
Matcha is a traditional drink made from powdered green tea that is often drunk at an elaborate Japanese tea ceremony. Kitkat Green Tea Matcha combines this flavour with white chocolate to create a sweet and fragrant mix.
The product is also made with no artificial colours, flavours or preservatives, using Matcha green tea sourced from Japan and China.
Originally launched across Europe earlier this year, the green coloured four-finger treat carries an rrp of 85p and is available now to One Stop, Budgens and Londis retailers.
Jemma Handley, senior brand manager for Kitkat, said: "We are very excited to be able to offer this new innovative product, inspired by the flavours of Kitkat in Japan to our fans here in the UK and Ireland.
"We have been receiving many requests about making the different Kitkat flavours in Japan available to our consumers here. This unique new flavour has been Japan's firm favourite for the last fifteen years and we are sure it will be a huge hit here as well."
The launch of Kitkat Green Tea Matcha follows the introduction of Kitkat Ruby across the convenience channel last year.