The Sweet Sundays on-pack promotion from Mars Wrigley Confectionery has returned for the eighth consecutive year.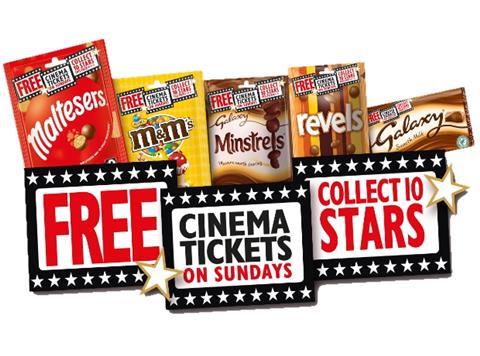 Running until 25 August, the manufacturer's most successful annual brand activation allows consumers to collect stars to claim a free cinema ticket.
Codes can be found on or inside More to Share or Family Pack promotional pouches (189g – 268g), which are worth five stars each, while standard promotional pouches (91g – 165g) are worth two stars each. Consumers can claim their free cinema ticket voucher once codes worth 10 stars have been registered at www.sweetsundays.co.uk.
The promotion is running across Maltesers, M&M's, Galaxy, Revels and Milkyway, as well as Skittles and Starburst Family Pack pouches.
Clare Moulder, senior brand manager for Mars Wrigley Confectionery UK, said: "Sweet Sundays is an exciting promotion that we know consumers and retailers love. We've seen demand for this promotion increase year on year – in 2017 shoppers claimed 90,507 free cinema tickets worth £791,936, while in 2018 we saw a 30% increase and gave away a staggering 126,076 free cinema tickets worth £1,103,165."
"The proven success of the promotion is down to providing great value to shoppers by enabling them to partake in their favourite out of home activity, while enjoying their favourite treats! However, the promotion not only benefits consumers, it also will unlock excellent cross-segment opportunities for retailers to help boost sales."