Mallow Puffs, the Belgian premium vegan marshmallows brand is expanding its distribution in the UK to include c-store distributors HFChocolates, Diverse Fine Food and Tree Of Life.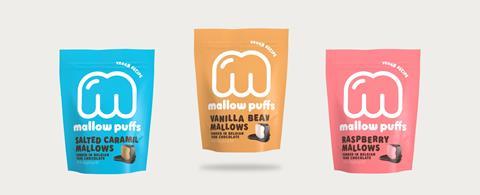 The brand's puffs are certified vegan, feature a dunking of Belgian dark chocolate and come in three flavours: vanilla bean; salted caramel; and raspberry.
Made with natural ingredients and flavours, the range is packed in colourful and resealable 100g snacking pouches with an rrp ranging from £2.99 - £3.49.
Gunther D'hondt, co-founder and marketing manager at brand owner Baru Nv, commented: "Although our marshmallows were already natural, gelatin has always been the elephant in the room. You shouldn't have to worry about sustainability and animal wellbeing while enjoying your favourite treat.
"The gelatin needed to go but the puffiness needed to stay. That turned out to be the biggest challenge. We finally hit the spot! We then dunked these mallows in Belgian dark chocolate and came up with what we think is the perfect mix of taste and bounce."