Tobacco sales have shifted but remained stable overall at retailer Samantha Coldbeck's Premier store in Hull following the menthol ban earlier this month, while alcohol sales continue to race ahead.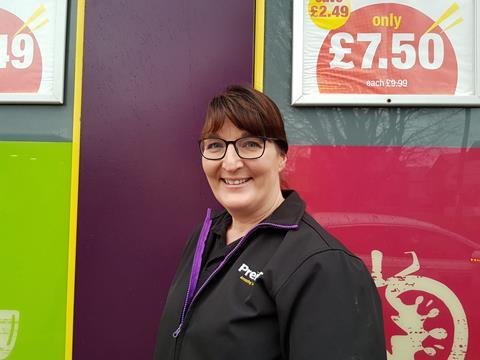 "Retailing life is still as bonkers as ever, but lockdown trends aside, there has been a big shift within the tobacco category in the past couple of weeks, as a result of the ban on menthol and capsule cigarettes on 20 May.
"We were very well prepared for the ban and had worked hard to ensure that staff were fully up to speed with what was happening and the new alternatives that would be available to menthol smokers following the ban. Clearly, a change as big as this does bring with it a level of shopper confusion at first but I feel that we have dealt with it as well as possible and two weeks on things are starting to settle down as smokers adapt and buy into new solutions within the category.
"Very few smokers are telling us that they will quit as a result of the ban and our tobacco sales have remained pretty stable. The new cigarette variants brought out by the tobacco companies to replace the former menthol products (or veggie menthols as we call them) don't appeal to all former menthol or capsule cigarette smokers, but most smokers, after a little trial and error with flavour cards and menthol filters, seem to have found a solution that they are reasonably happy with. We have found that the variants described as Blue appeal more to those smokers who used to buy capsules or crushballs, while the Greens appeal more to those who smoked standard menthol cigarettes.
"Tobacco aside, our alcohol sales continue to storm ahead, we have experienced a massive surge in demand for alcohol since lockdown started and all the pubs and bars closed -we are currently 51% up on this time last year. It's hard, physical work keeping up with the demand, the packs are heavy and we shift so many each day.
"Under normal circumstances we'd have taken on more staff to deal with a spike in demand like this but clearly, because of social distancing requirements and the size of our store we can't do that. Our existing team is just pulling out all the stops to meet it. We are so grateful to our team for all the hard work they are putting in at the moment and the valuable difference that they are making to our local shoppers. We've been showing our appreciation by giving them bonuses along the way and earlier this week I surprised them all with gifts of lovely lavender-scented hand sanitiser that I put in all their lockers."