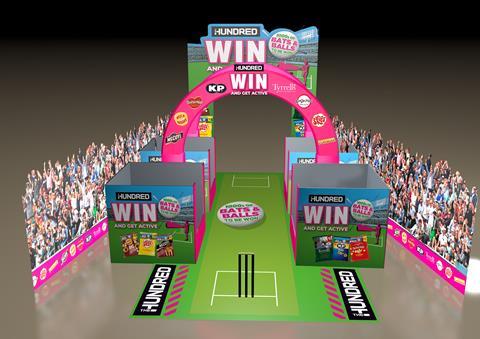 To celebrate its partnership with The Hundred, KP Snacks has announced five event activations taking place across four major wholesalers – Bestway, East End, Parfetts, and United Scotland.
The five depots will each be provided with themed theatre displays, POS materials and a VR cricket game from KP Snacks, alongside exciting prize giveaways with stock vouchers and The Hundred merchandise up for grabs. Depots will also receive in-store POS bundles which will be available for retailers to takeaway and use in-store to promote the KP Snacks' The Hundred on-pack promotion.
The themed event days are running in addition to an exclusive initiative KP Snacks is running in partnership with Bestway, offering retailers the opportunity to win the ultimate 'money can't buy' experience at The Hundred this summer.
The event days are taking place at East End Birmingham on 20 July, Bestway Park Royal on 27 July, Parfetts Stockport on 10 August, Partfetts Aintree on 11 August, and United Wholesale Scotland depot activation is taking place at the Queenslie depot on 16 August.
Matt Collins, trading director of KP Snacks said: "At KP Snacks, we know how important our wholesale partners are and we are thrilled to be engaging them and retailers with our exciting depot activations. With great prizes available and fun theatre displays, these events are perfectly positioned to engage independent retailers and drive CSN sales."