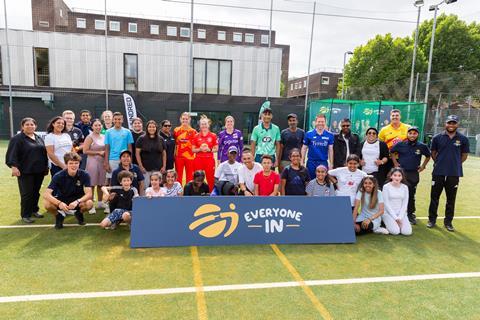 KP Snacks, the Official Team Partner of The Hundred, is taking a cricket roadshow on tour across the country as part of its 'Everyone In' campaign.
The 'Everyone In' roadshow will include batting, bowling, and catching skills sessions and launched in Lambeth, South London, where local participants were joined by former England stars Eoin Morgan (London Spirit) and Fran Wilson (Welsh Fire) among other players.
Throughout August, the free experience will travel across six cities: Manchester, Leeds, Nottingham, Birmingham, Cardiff and Southampton. The roadshow is part of KP Snacks' commitment to get people active through cricket over the course of its five-year partnership with The Hundred. Each stop will engage local communities with a custom-built mobile experience featuring the skills sessions, with players from the teams in roadshow cities participating in the sessions themselves.
As part of its partnership with The Hundred, KP Snacks brands: popchips, Butterkist, POM-BEAR, Tyrrells, KP Nuts, Hula Hoops, McCoy's, and Skips feature across the team shirts of eight men's and women's teams competing in the tournament. Earlier this year, KP Snacks launched its 'Win and Get Active' on-pack promotion across Eat Now formats for the eight brands, giving shoppers the chance to win thousands of bats and balls.
Kevin McNair, marketing director at KP Snacks, said: "Our partnership with The Hundred is underlined by our passion to get people active through cricket, and so we are delighted to unveil the 'Everyone In' roadshow. This campaign will bring cricket to local communities around the UK that may not have ever had an opportunity to play the sport, whilst also building interest and a connection to their local team in The Hundred."
Eoin Morgan, London Spirit captain added: "It's really important we encourage more people to get active and to give cricket a try. Cricket can have a positive impact on wellbeing, both physically and mentally. This national 'Everyone In' roadshow is the perfect opportunity for those who maybe haven't considered the sport before to be inspired, pick up a bat and a ball, and have a go at practicing some fun cricket skills."