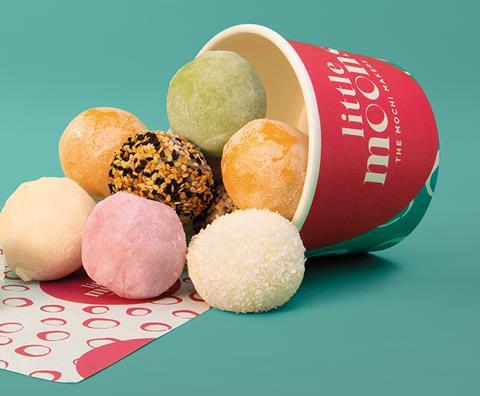 KFF has added five flavours of Little Moons Mochi Ice Cream treats to its product portfolio.
The Himalayan Salted Caramel flavour is a blend of sweet and salty caramel ice cream wrapped in a soft mochi layer, while the Honey Roasted Pistachio variety has a rich nutty, slightly sweet taste. The smooth Creamy Coconut Mochi Ice Cream is finished with a dusting of desiccated coconut.
Summer Raspberry Mochi is packed with ripe, juicy raspberries while the Passionfruit and Mango variety combines sharp and sweet flavours, wrapped in a layer of bold purple mochi. Suitable for vegans, the tropical treat is made with cashew milk that gives it an extra creamy texture.
All five Little Moons varieties are supplied frozen in cases of 60 x 32g. Retailers can simply remove from the freezer and soften at room temperature for three to five minutes before serving.