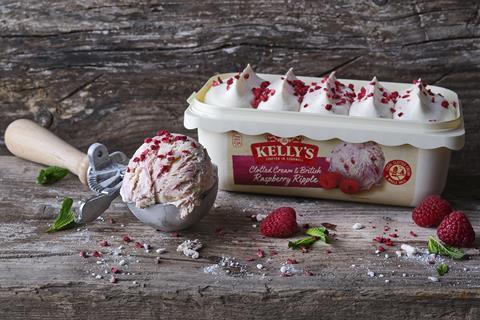 Kelly's of Cornwall has launched two new flavours to coincide with its first brand refresh in five years.
Kelly's Clotted Cream & British Raspberry Ripple and Kelly's Chocolate with a hint of Cornish Sea Salt are available with an rrp of £3 for 950ml.
As part of its refresh, the updated flavour banners on pack aim to deliver greater flavour differentiation on shelf, along with updated product descriptions on the back of the pack that clearly communicating Kelly's strong dairy credentials.
The new cream coloured tub is designed to look more contemporary and give the product greater standout on shelf, whilst the transparent lid has been retained with a visual of the ice cream added to the front of the tub to give consumers better product visibility.
The Kelly's rebrand will also support the The Bumblebee Conservation Trust by drawing attention to the importance of sustainable local farming which will give better, bumblebee friendly pastures.
UK head of marketing at Froneri Brunhilde van Antwerp said: "Kelly's is an exciting brand that offers consumers something that other brands do not – delicious Cornish ice cream made with rich clotted cream and passion that comes from 90 years of experience. Kelly's is a truly trusted brand that has stood the test of time since 1930.
"The brand's use of the tub format gives it versatility, with its ice cream fitting in perfectly with a range of family occasion. This could be a family dinner at Easter, al fresco dining in summer or an intimate meal for two at Christmas, and consumers can enjoy it on its own either in a bowl or on a cone or as an accompaniment to a dessert."