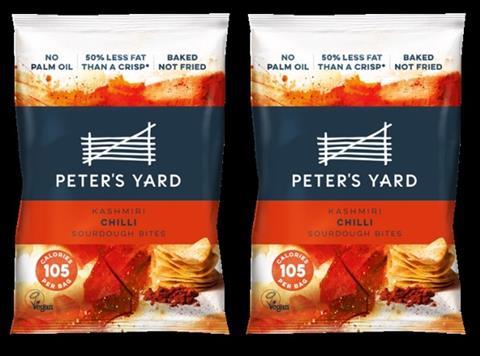 Premium snacks brand Peter's Yard has expanded its Sourdough Bites range with the addition of the Kashmiri Chilli flavour.
The Kashmiri Chilli Sourdough Bites come in a new weight of 24g and are just 105kcal per serving. The product will also be available in a 90g pack alongside the existing flavours, offering a purchase perfect for sharing occasions. The new variant is HFSS compliant. The launch builds on the successful West Country Sour Cream & Chive, which will be HFSS compliant from August, and Suffolk Cyder Vinegar & Sea Salt packs. The Kashmiri Chilli Sourdough Bites will replace the Anglesey Sea Salt and Cracked Black Pepper Bites in the wholesale mixed case of 18 packs.
Matt Hodgetts, Peter's Yard UK and export sales manager said: "There has been a clear trend for healthier foods in the marketplace and that is set to continue. At Peters' Yard, we understand the importance of creating products that are HFSS compliant to appeal to even more customers. The Kashmiri Chilli allows for a bold flavour, while being less reliant on salt for savoury appeal.
"The 24g pack is a satisfying portion size and still only 105 calories. The calorie message was an important consideration for consumers when asked, in Peter's Yard product development focus group research."