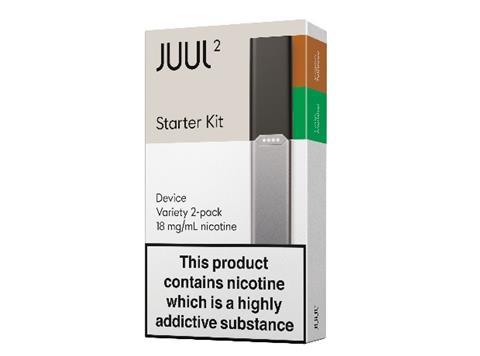 Juul Labs has launched its next generation system, JUUL2, into UK retail.
Following a successful pilot launch on the Juul.co.uk website last autumn, JUUL2 is now available to purchase in stores. The JUUL2 system boasts a larger, long-lasting battery, and smart light system, communicating e-liquid level and battery life as well as technology to prevent unauthorised use.
JUUL2 pods, which have 18 mg/mL nicotine strength, are available in Virginia Tobacco, Polar Menthol, Crisp Menthol and new Autumn Tobacco, Ruby Menthol and Summer Menthol flavours.
"Following a successful online pilot launch, we are pleased to release the next-generation JUUL2 for sale nationwide through our retail partners in the UK," Juul Labs' EMEA VP, Dan Thomson said. "We have been encouraged by the number of existing JUUL users who have transitioned to the new system since launching on our UK website, and we look forward to providing even more adult smokers with an alternative to combustible cigarettes."
All UK retailers stocking JUUL products will continue to uphold the company's 'Challenge 25' age verification policy and are subject to continued mystery shopping audits. The company is also trialling a take-back and recycling programme for used pods and devices, which it hopes to roll out later this year.