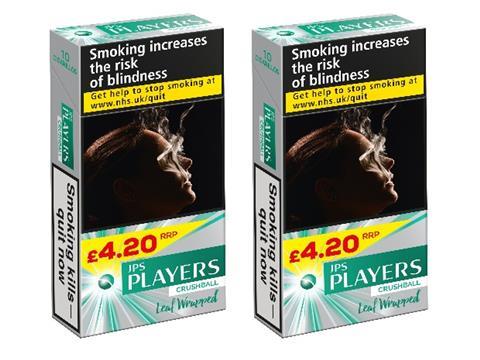 Imperial Tobacco has announced the launch of a new Crushball Cigarillo variant to its JPS Players brand which is designed to help retailers cater for consumers seeking out new nicotine solutions in the wake of the Menthol Ban.
JPS Players Crushball Cigarillo, the menthol alternative, comprises American Blend tobacco, wrapped in a natural tobacco leaf and features a menthol crushball within the filter, providing consumers with the choice of releasing the flavour contained within or smoking as a standard cigarillo. The JPS Players Crushball Cigarillo is available to buy in packs of 10 with an RRP of £4.20 in a pricemarked pack.
As JPS Players Crushball Cigarillo is wrapped in a natural tobacco leaf, packs can legally be branded and so the range benefits from the addition of attractive branding which will help grab the attention of shoppers when the gantry doors are open.
Imperial Tobacco market manager UK Chris Street said: "This new solution from one of our leading brands will help bridge the gap left by the ban with a product that benefits from crushball technology to deliver a fresh menthol flavour that will appeal to these shoppers.
"Value for money remains a major trend within the tobacco category with many adult smokers seeking out the lowest out of pocket spend possible. However, brand loyalty is also extremely high and shoppers don't want to compromise on quality. With JPS Players positioned as the No.1 FMC brand in terms of market share, the launch of our Crushball Cigarillo variant addresses both of these needs with a price marked pack that offers shoppers the visible value they are looking for, from a well-known brand they can trust."
For more on the Menthol Ban, see how Samantha Coldbeck in Premier Hull has adapted to the changes.