USN is moving into the on-the-go protein category with its Trust Crunch range: a series of bars each packed with 20g of protein and less than 2g of sugar.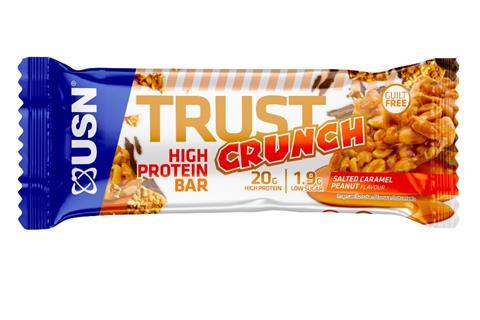 Available in four flavours: fudge brownie; cookies & cream; white choc cookie dough; and salted caramel peanut, the new quartet will sit alongside USN's existing line-up of Trust protein flapjacks and 'ready-to-drink' protein shakes.
The bar range will be promoted by the sports and nutrition company's latest brand ambassador, Ant Middleton; best known for hosting Channel 4's TV series SAS: Who Dares Wins.
Joanne Mintz, marketing director at USN, said: "We are confident the USN Trust Crunch range will take the consumer market by storm. Availability is key and we have invested time and resources to perfect Trust Crunch's nutritional power with healthy benefits. We know we're onto a winning formula."
Nutritionist Shona Wilkinson added: "Trust Crunch bars contain a good level of protein and fibre, with sugar content reduced to just 2g per bar. They provide an excellent option for consumers who want to manage their weight as well as improve their fitness levels."
The USN Trust range is available to retailers now at the following prices:
Crunch bars (rrp £2.50 / 60g)
Flapjacks (rrp £2 / 70g)
Shakes (rrp £2.50 / 330ml or rrp £3.50 / 500ml)