Simpsons of Hawkhurst has reformulated a number of recipes so that all 18 flavours of Goupie are now vegan, dairy and gluten-free. Products are now clearly labelled as such and packs have undergone a rebrand.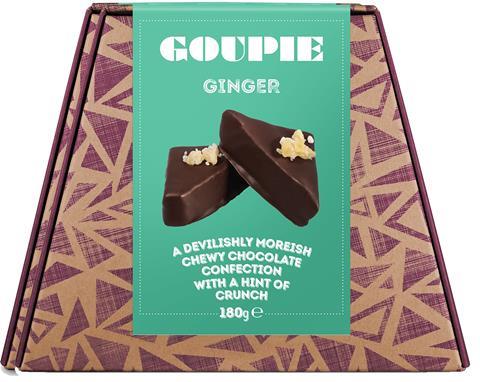 "Goupie has always provided a large range of vegan friendly and gluten-free options," said Goupie brand manager Grace Simpson. "This move was a natural progression for us, in our desire to become the market leader in affordable, luxury, confectionery which is accessible to all."
The brand has also updated its factory, which is now set-up to prevent any dairy or gluten being brought onto the premises to better minimise the risk of cross contamination. The firm has also created a new testing schedule, to periodically test their products at random, giving further confidence to the consumer.
"We want to make sure that our customers have all the information they need to make the right buying choices for them," Simpson added. "Nowadays labels can feel very confusing, with 'may contain' warnings and loopholes in labelling requirements, which mean that even vegan products can contain traces of dairy. We completely revamped our packaging, and website, to try to better inform our customers. Instead of 'may contain' warnings, we now clearly state what our factory does, and does not, handle. That way, consumers can make their own choices and feel confident in them."
Goupie consists of a cocoa-rich syrup base which is filled with toasted rice and other natural ingredients (depending on the filling) before being fully enrobed in a 54% Belgian chocolate. Goupie is available in 18 flavours through Hider Foods, Suma Wholefoods, Diverse Fine Foods, Enterprise Foods and HF Chocolates.