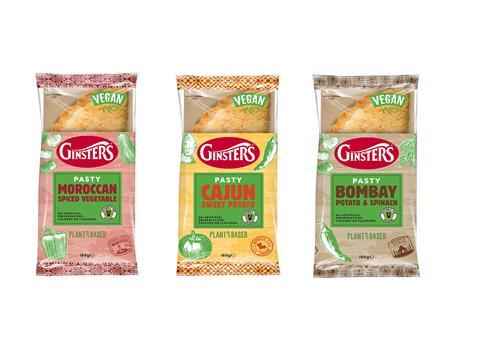 Ginsters has launched a new range of plant-based pasties inspired by global flavours.
Available nationwide from 27 September, with an rrp of £1.70, the range comprises: Bombay Potato & Spinach Pasty (180g) and Cajun Spiced Sweet Potato & Chickpea Pasty (180g).
The brand's existing Moroccan Vegetable Pasty (180g) will also receive a packaging refresh this September to complete the range.
Ginsters managing director Sam Mitchell said: "We set ourselves a challenge, to change the way people think about meat-free recipes, and our new range is a natural addition to our ongoing pipeline, which has helped us to capture a slice of the plant-based market through awareness, trial and repeat purchase.
"Consumers are increasingly enjoying flavours of the world, driven by demand for new experiences. As shoppers seek out the next big thing to try, our new Cajun, Indian and Moroccan pasties offer intense and distinctive flavour combinations that will excite their taste buds and encourage them to explore the category, engaging in new occasions and ultimately buying more frequently."