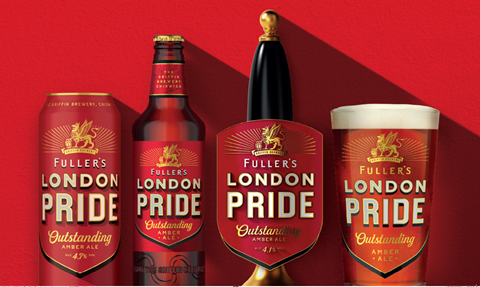 Fuller's London Pride has unveiled a new Fuller's London Pride design for 2021.
Running across both on and off trade, the new brand identity will encompass a new logo, typography, glassware, pump clip and point of sale materials.
Asahi UK Managing Director, Tim Clay, comments: "The new design represents an exciting next step in the long and storied journey of London Pride. Firmly established within the Asahi portfolio, London Pride sits within an unrivalled line-up of premium brands, and we are committed to building upon its existing strength and heritage to further unleash its potential.
"Bottled ale drinkers continue to be extremely valuable to the beer market, with the share of spend in the category currently highest amongst the older, more affluent demographic. Cask ale has undoubtedly suffered at the hands of the pandemic but remains at the very heart of London Pride, and we aim to be at the centre of the category's rejuvenation and recovery following the reopening of the on-trade. At Asahi UK, we're committed to working with our customers to champion brilliant quality, every time. We are proud to be celebrating this amazing, premium beer and look forward to supporting its future growth."