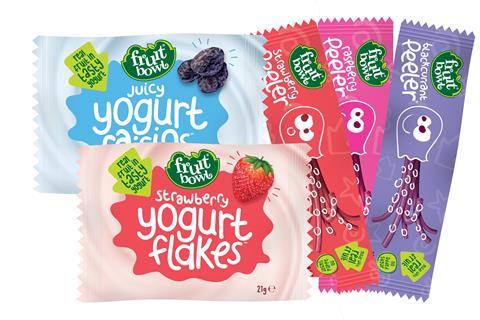 UK fruit snack brand Fruit Bowl has unveiled its new convenience offer, available for the first time in the impulse channel.
Rolling our to c-stores from this month, Fruit Bowl's grab-and-go range of fruit snacks and treats contribute towards a person's five a day and come in the following singles:
Strawberry Peelers, 16g, rrp £0.59
Raspberry Peelers, 16g, rrp £0.59
Blackcurrant Peelers, 16g, rrp £0.59
Yogurt Coated Strawberry Flakes, 21g, rrp £0.49
Juicy Yogurt Raisins, 25g, rrp £0.49
All of Fruit Bowl peeler products are gluten-free, contain no added sugar and are vegetarian and vegan friendly. The brand's yogurt products are also suitable for celiacs.
Jonathan Thorn, managing director at brand owner Pioneer Foods UK said: "The launch of our convenience range is a leap into a new market for Fruit Bowl and we're incredibly excited about the opportunities this presents for the brand. This diffusion makes Fruit Bowl an even easier choice for parents, especially out of home. We're over the moon to be able to offer our distributors, as well as our customers, more choice than ever."