Fatherson Bakery has baked up a new range of on-the-go gluten free snack bars, designed to appeal to consumers looking for free-from products.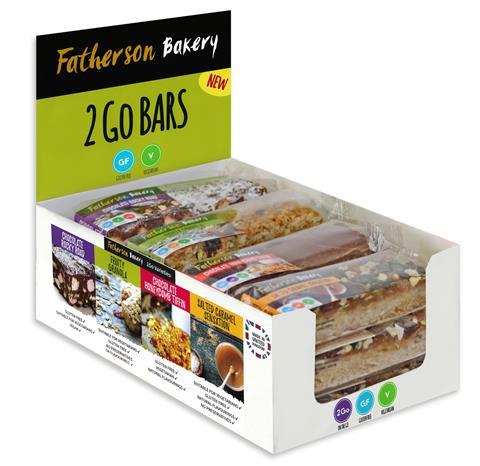 The 2Go range is available in four variants: salted caramel sensation; chocolate honeycomb tiffin; fruity granola and chocolate rocky road.
The products come in a 65g bar format with an rrp of £1.49 each. The range is available to convenience stores from wholesalers including A.F. Blakemore, Co-op / Nisa and Booker Retail Partners.
Laurence Smith, owner and managing director of Fatherson Bakery, said: "All the products that we make here at Fatherson Bakery are made using fresh ingredients and processes more akin to a home kitchen than a factory. That's why our new gluten-free snacks offer retailers something that is premium and tastes like local.
"I believe the demand for these types of products will continue to grow providing that consumers don't have to compromise on taste. Just because they are cutting something from their diet out of choice or necessity, this doesn't mean that the product shouldn't be just as good as one that contains gluten.
He added: "Our range delivers on flavour, features clear labelling and we also support independent retailers with POS and shelf barkers to help them display their range in the best way to suit their store size. We have worked particularly successfully with some of our Budgens partners and are planning to expand our range and number of listings over the coming months."