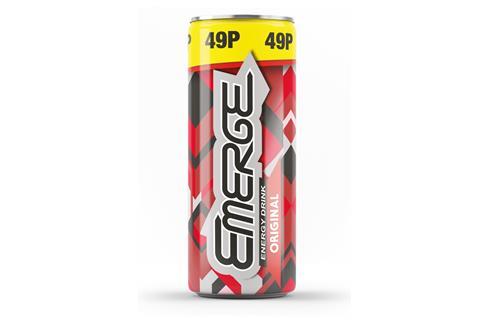 Energy and sports drinks brand Emerge is rolling out a new price-marked pack (PMP) for the retail and depot channels this May.
The 49p price-marked recyclable can will replace the brand's existing 39p product, designed to give wholesalers and retailers greater margins. POS will also be available for retailers to promote the new price-point.
James Logan, commercial director at brand owner Refresco, said: "PMPs account for around 18% of Emerge energy and isotonic sales. Consumers like PMPs across all categories but especially for premium products like energy drinks which are relatively expensive.
"Emerge energy and Emerge isotonic have similar flavour profiles to the 'big brands' (Emerge energy contains the same caffeine content and Emerge isotonic the same nutrition) but both are more competitively priced. They will continue to offer consumers great value for money with the new PMP price points, but will now increase margins for wholesalers and retailers."