Smoothie brand Coldpress is expanding its range with a new cherry & apple drink this October, launching in time for the relaunch of the company's 250ml bottles.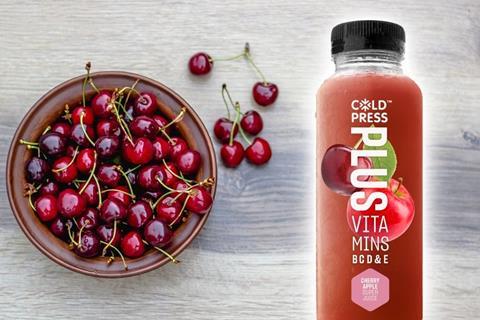 Made with fortified vitamins, the nine strong on-the-go portfolio includes super smoothies: Survive & Thrive and Mend & Defend, and regular Coldpress variants such as mango, passionfruit & pineapple; banana & coconut and Pink Lady & Valencian orange.
Andrew Gibb, founder of Coldpress, said: "A rejuvenated chilled juice category is certainly dependent on 'disruptor' super juices like Coldpress re-establishing their independent convenience store credentials as a credible alternative to big soda heavyweights.
"There has been a lot of change at Coldpress over the last six to nine months, including the creation of a state-of-the-art Spanish 'pressery' and establishing Europe's first fortified HPP juice and smoothie portfolio, however knowing winks to past remain including the new 250ml on-the-hoof bottles remaining unmistakably hexagonal, albeit today's on- the-go bottles are slim and elegant not short and squat."
Available to convenience retailers and independents now, the 250ml Coldpress range carries an rrp of £1.99.