Coldpress is focusing on the independent sector with its range of cold pressed smoothies, made with vitamins B, D and E.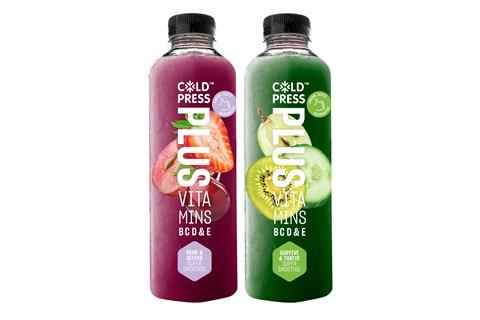 Available in two flavours: Mend & Defend (apple, banana, cherry, strawberry, raspberry, red grape and beetroot) and Survive & Thrive (kiwi, cucumber, apple, banana, mango, mandarin, white grape & lemon), the drinks come in 750ml bottles (rrp £3.20).
Launching in The Co-op from this month and rolling out to independent retailers later this year, the smoothies will be available in a 250ml on-the-go format from September.
Andrew Gibb, founder & managing director at Coldpress Foods Limited, commented: "Over the coming months, We'll be making a significant foray into the independent sector that is seeking to differentiate its pivotal chilled juice fixture.
"Our single region Valencian oranges and Pink Lady apples reflect our added vitamins vision whilst offering this pioneering food sector a reassuring 'taste guarantee' which entitles consumers to ask for their money back, if they believe we've fallen short of our fresh taste promise."