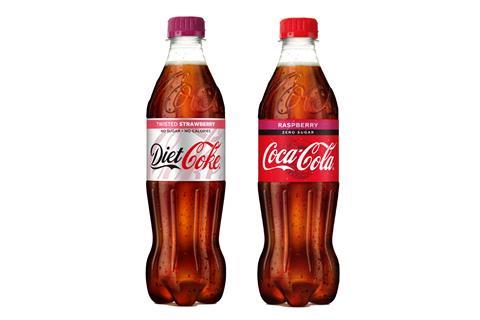 Coca-Cola European Partners (CCEP) is extending its light colas portfolio with the launch of two new flavours: Coca-Cola zero sugar raspberry and Diet Coke twisted strawberry.
Available to convenience stores in all formats from March, the new innovations are designed to help retailers maximise sales in the flavoured cola segment, currently worth almost £190m and in +25% value growth [Nielsen, 2018].
The launch of the two fruit flavours will be backed by a £7million out of home, digital and TV marketing campaign. In addition, more than two million consumers will have the chance to taste the new variants through sampling activity throughout 2019.
The introduction of the strawberry and raspberry flavours follows the addition of Coca-Cola zero sugar peach, Diet Coke exotic mango and Diet Coke feisty cherry last year, with the cherry variant being phased out to make room for the new flavours.
Simon Harrison, vice president for commercial development at Coca-Cola European Partners GB, said: "Our light flavoured colas are increasingly popular with consumers who are looking to try new and exciting variants of their favourite soft drinks. They are also an example of how we are energising our core brands as we continue on our journey to becoming a total beverage company.
"A staggering 7.4 million households in Great Britain buy flavoured colas. This equates to an increase of 1.7 million buyers over the last year adding +30% growth to flavoured colas in 2018 [Kantar Worldpanel Take Home 52 w/e 02/12/18], demonstrating the clear opportunity for more flavour variety within this well-established soft drink sector. We are the only cola brand to offer these unique flavour combinations and they come following authentic consumer requests on social media. Purchase intent research has also been high so we expect to see a positive reaction from cola drinkers in the coming weeks and months."