Savvy convenience retailers are taking full advantage of the excitement surrounding the soon-to-launch Cadbury Twirl Orange, by sharing images of the product with their social media followers.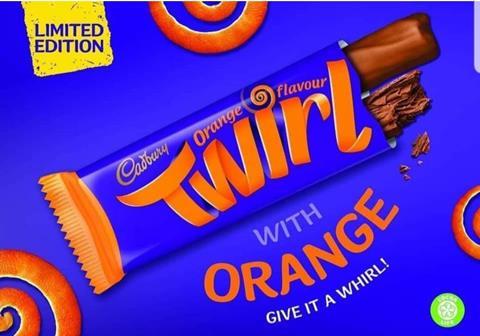 A product image was originally posted on Facebook by Scottish retail group My Local Day-Today where it was liked and shared by numerous retailers and consumers.
When owner Harry Singh Hallen posted the image on Londis Carstairs Junction's Facebook page it racked up 119 likes and more than 30 comments from the Lanark store's customers, who are eager to try the bar.
South Ayrshire-based retailer, Doonfoot Day Today told its Facebook followers that the combination of chocolate and orange would be "heaven" on a post, which has received 73 likes.
Londis Weymouth in Dorset got its Facebook followers engaged by asking them to rate the concept of the product from 0-10. The post gained over 70 hits and comments.
Meanwhile, a LinkedIn post from Raj Aggarwal, who owns two Spar stores in Leicestershire and Sheffield, claiming it would be "massive NPD" has over 100 likes.
Budgens Broadstairs in Kent, which has over Twitter 2,200 followers, also highlighted the product on various social media channels and suggested on Facebook that it might be a future product tasting.
The original post, which was created by head of marketing at United Wholesale Scotland Naeem Khaliq, now has 10,000 likes, 27,000 shares and 46,000 comments. He said that the reaction had been "extraordinary" with over 4m people reached.

Mondelēz has remained tight-lipped regarding details of the forthcoming launch. A spokesman said: "We knew it would be difficult to keep the news of the limited edition Cadbury Twirl Orange under wraps as people would be as excited about the product as we are. We can't share much more at the moment, but watch this space for more information as we get closer to the launch."