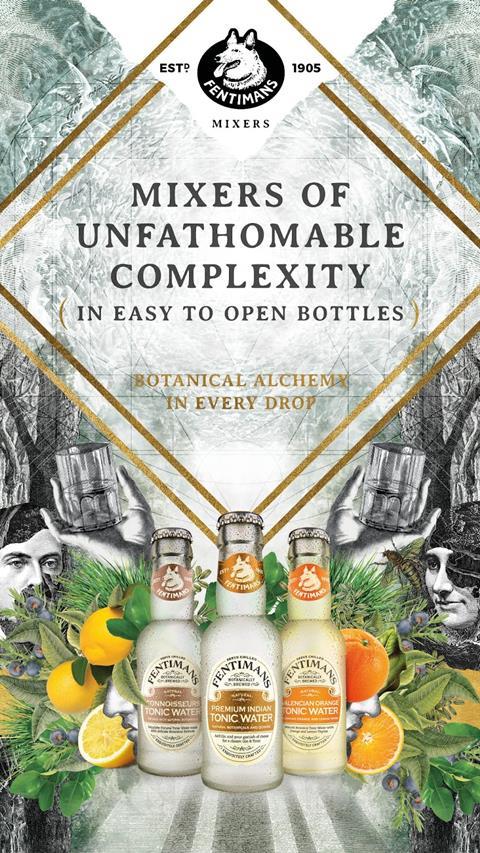 The botanically brewed soft drinks and mixers brand Fentimans has unveiled its first stand-alone ad campaign for its mixers range,
Fentimans mixers' new identity, created in partnership with the Orange Panther Collective, is set to appeal to consumers looking for a premium mixer option, this summer.
The ad campaign includes a new end line "Botanical Alchemy in Every Drop", which has been designed to highlight Fentimans' complex, inhouse craft brewing process.
On the new visual identity, Ellie Jones, senior brand manager at Fentimans, explained: "Our latest market report shows that on and off Covid restrictions since March 2020 has caused a pent-up demand for socialising and creating memorable moments. This desire for high-quality, experience-led occasions has resulted in increasing trade-ups of drinks to more premium alternatives.
"Research shows that consumers can taste the difference with Fentimans and we want to celebrate our distinctness and support our partners with its premium positioning. It's our undeniably complex process that gives our products their complex taste, silky mouthfeel and luxurious body, and 'Botanical alchemy' is a perfect way to articulate our ownable and differentiated proposition to consumers."
Alongside the new identity, Fentimans has also released its mixers in a new fridge pack format. The brand's research shows that 52% of consumers regularly buy 'premium' drinks, with 33% willing to spend more on drinking even with increased prices. The new format will allow the brand to tap into more consumer consumption occasions.
The new format consists of 6 x 150ml cans, available in its best-selling mixer flavours, Rose Lemonade and Ginger Beer, along with their Premium Indian Tonic Water and Valencian Orange Tonic Water flavours. All four flavours are already listed in Dunnes, Ireland.
The roll-out will be part of a consumer mass marketing campaign in summer 2022.