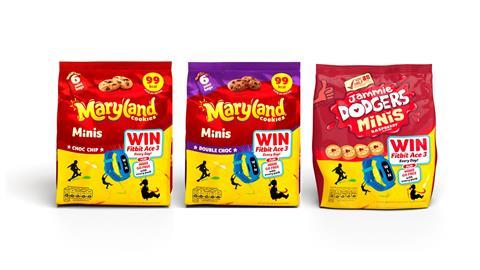 Burton's Biscuit Company's Minis Get Moving on-pack promotion has returned for 2021.
The promotion forms part of Burton's ongoing initiative to encourage children to get active by offering instant-win prizes across the Maryland Minis and Jammie Dodgers minis portfolio of 99 calorie snacks.
The Minis Get Moving campaign which coincides with the summer holidays and back to school occasions, runs from 1 July to 23 September. Alongside an array of prizes on offer, including the brand new Fitbit Ace 3, every promotional pack includes a 'Kids Go Free' voucher. The vouchers are valid against hundreds of sports and leisure activities around the country, maximising the positive impact of the campaign for families across the UK.
Burton's Biscuit Co's marketing director Kate Needham said: "It is our mission to change that with return of our 'Minis Get Moving' on-pack promotion which highlights our ongoing commitment to promote the role of portion-controlled snacks as part of a healthy balanced diet and active lifestyle, helping families to get active in fun and accessible ways."