This autumn, Boost Drinks is set to visit retailers across the UK in an attempt to show its commitment to the independent sector.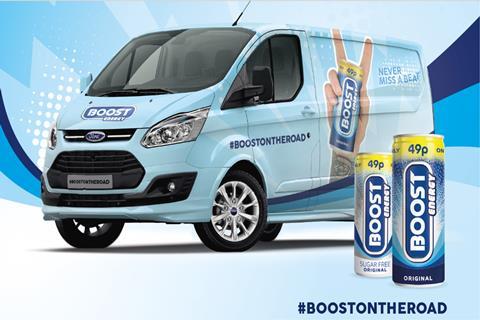 As part of its #BoostOnTheRoad campaign, staff from Boost HQ will travel all over the country in the company's 'We Love Local' tour bus, visiting retailers and handing out freebies including branded goodies to customers.
C-store owners will also have the opportunity to take part in a quiz competition with the chance of winning some free stock and a number of Boost-branded prizes.
Simon Gray, managing director for Boost Drinks, said: "Here at Boost we like to do things differently and want everything we do to show our commitment to supporting independent retailers. We love to get out and meet our customers and retailers face-to-face and tell them first-hand about the great job they're doing. We also think it's important that they can meet the people behind Boost.
"We know that our retailers are busy in store, so we thought what better than to bring the party to them whilst also letting them know about our latest promotions and ideas for merchandising – designed specifically with increasing retailers' sales in mind! We love to surprise our customers so look out for us soon in a city near you!"
Running from 5 September to 25 October 2019, the Boost road trip will finish in London with an exclusive one-night event at a pop-up comedy store, hosted by a big-name comedian and available for retailers to watch live on social media.