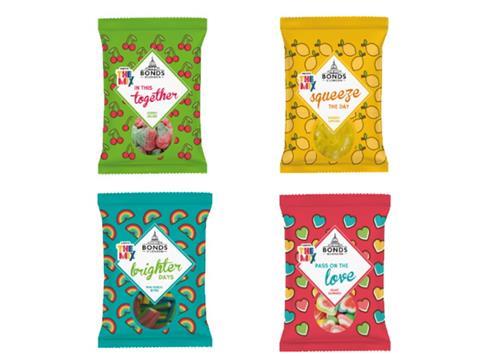 The brand has partnered with The Mix charity to raise funds for young people in need.
Each bag of sweets sold will see a 5p contribution to The Mix, which provides essential support to under 25's, offering free, confidential and multi-channel support services including counselling, helpline and crisis support.
Designed to give to friends and family as little 'pick me ups', the range comprises:
Bonds 'Brighter Days' with Mini Pencil Bites 140g Bag (rrp £1)
Bonds 'Pass on the Love' with Heart Gummies 140g Bag (rrp £1)
Bonds 'Squeeze the Day' with Sherbet Lemons 150g Bag (rrp £1)
Bonds 'In This Together' with Cherry Jellies 140g Bag (rrp £1)
The range is available from the Bonds Field Sales team, Hancocks Wholesale Stores, Hancocks.co.uk and the World of Sweets sales team.
McColl's will be one of the first retailers to list the new range, which will be available in stores nationwide from 25th November 2020.
"Bonds of London confectionery has become a trusted brand over its 120 years and we're proud to be collaborating with and supporting The Mix charity," said Helen Bradshaw, sales & marketing director.