In a bid to get families snacking more healthily, Boka Food has launched its first TV campaign: 4 Green Lights, on children's TV channel Nickelodeon.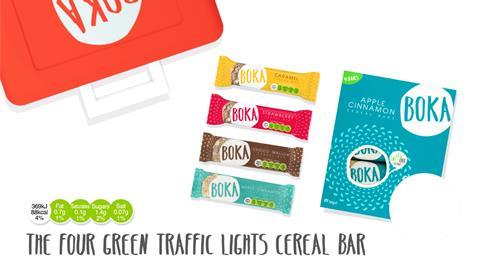 The activity is designed to show how Boka's entire snacks range is low in fat, saturates, sugar and salt, using the traffic lights system of labelling.
The brand is on a mission to champion clearer information on food labels and the ad campaign launching on Nickelodeon is the next step in achieving this aim, with a two-year deal set to run during key period between now and June 2021.
The TV campaign also marks the launch of a wider marketing campaign which will include PR, sampling and social media activations to reinforce the 4 Green Lights messaging.
Franco Beer, founder of Boka, said: ''The TV campaign on Nickelodeon uses the four green traffic light messaging at its centre, demonstrated through a fun and engaging visual reinforcing to consumers what to look for when they choose an everyday snack product that still tastes delicious.
"Being one of the only snack brands able to advertise on children's TV reinforces our healthy credentials to families who can trust they are making the right choice when purchasing our products. For us it is about educating as many consumers as we can how to snack more healthily and reaching new audiences via this campaign will help our mission to do this.''
Virginia Monaghan, vice president of marketing, commercial & events at Nickelodeon, added: ''We're looking forward to the partnership with Boka – furthering our commitment to showcasing the importance of a balanced diet and lifestyle to our young audience. Boka's products are a great way to educate families on the importance of healthy snacking and we're delighted to have the ads running across the Nickelodeon network."
Core flavours within Boka's bar range include apple & cinnamon; strawberry; choco mallow; and caramel. Watch the new ad campaign below: