Spread brand I Can't Believe It's Not Butter has relaunched, complete with an updated pack design and a new variant.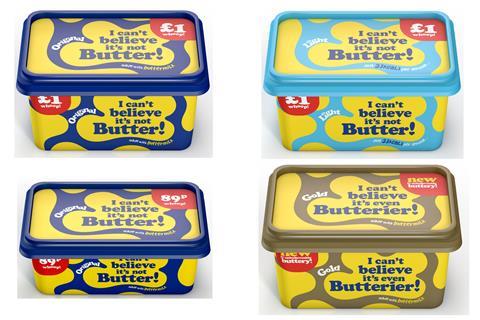 Revamped versions of the brand's Original (classic buttery taste) and Light (healthier alternative / 27 calories per serving) variants are returning to retail now, alongside a Gold I Can't Believe It's Even Butterier sku (made with buttermilk to appeal to bakers).
The relaunch also includes new packaging across all three spreads, which draws on the brand's familiar colour scheme and revived font style.
The Original and Light variants are pricemarked at £1 for a 500g tub and the Original sku also comes in a 250g tub (89p PMP). The new Gold spread comes in a 500g tub with an rrp of £1.30.

David Salkeld, general manager at brand owner Upfield, said: "I Can't Believe it's not Butter is back and butter-ier than ever! The brand is a jewel in our crown, and we believe it's time to return it to its glory days. Through the range relaunch, we have modernised the iconic brand which is designed to bring fun and personality back to the category.
"Since the formation of Upfield, we have focused on strengthening all aspects of our spread's portfolio. We recognise the need to offer consumers a quality product at a great value price point, and I Can't Believe it's not Butter does just that, as well as being highly versatile. We expect the relaunch to be a huge hit with consumers who will instantly recognise the brand as it starts to flow back into fridges across the UK."