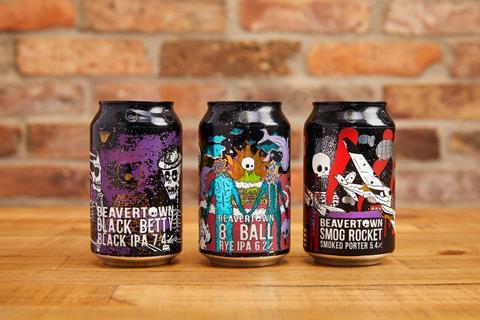 Beavertown is bringing back core classics 8Ball Rye IPA, Black Betty Black IPA and Smog Rocket Smoked Porter in time for Autumn and Winter.
A nod to the OG craft IPA's of the US, 8Ball Rye (rrp: £2.65) has a blend of tropical, malt and spicy aromas flawlessly finished with a hint of bitterness while inspired by industrial old London, Smog Rocket (rrp: £2.65) is one of the first beers Beavertown brewed and served at Dukes Brew & Que, the brewery's birthplace, and is Beavertown's take on a Smoked Porter. Using smoked and dark, the 5.4% Porter is an original recipe using nine different malts with a big-hitting taste of molasses, smoked hickory wood, raisins and caramel.
Black Betty Black IPA (rrp: £2.70) is Beavertown's take on a black IPA. Bringing together the tropical flavours of Fruit Salads and the liquorice of Black Jacks, this 7.2% IPA has been created to give a dose of nostalgia.