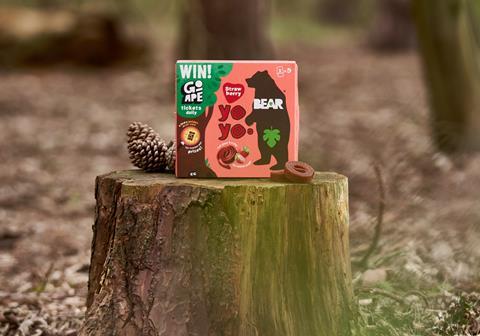 Children's snack brand BEAR has launched an on-pack promotion with Go Ape this summer across its popular BEAR Yoyos range. The daily giveaways will offer shoppers the chance to win a Treetop adventure or a BEAR and Go Ape adventure kit with every purchase of BEAR yoyos multipacks and singles respectively.
Marketing director at Urban Fresh Foods Jo Agnew said: "Our BEAR brand and Go Ape both share a passion for keeping families healthy and active, so the on-pack promotion felt truly authentic for us. BEAR yoyos are a great family product to fuel adventure and with the Covid-19 restrictions set to continue to ease this summer, outdoor activity is deemed a safer way to socialise. There's no better time for us to encourage families to 'find their adventure' and purchase one of our BEAR yoyo products to be in with the chance of winning a Go Ape adventure, as well as other prizes. There are 34 locations of Go Ape across England, Scotland and Wales, which will make the promotion widely accessible to consumers, driving trial and encouraging purchase for retailers."
Alongside the Go Ape tickets, there will also be the chance to win 1,000 BEAR and Go Ape Adventure kits when you find a golden BEAR card in the BEAR yoyos singles packs – including singles within multipacks. Prizes include a branded backpack, water bottle, activity booklet and a free pack of BEAR yoyos multipack. The BEAR and Go Ape packs are available now and the promotion will run across BEAR yoyos multipacks and BEAR yoyos singles on all variants – core, sours and giants. The activity will be supported via digital and in-store plans.