Bean & Pod is extending its range of Chocolate Moments for the Christmas season.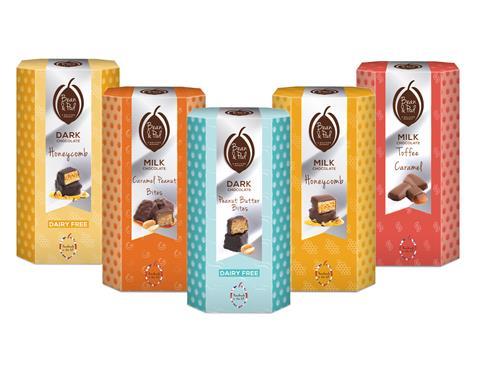 The latest additions of gourmet chocolates are hand-crafted, hand-filled and hand-roasted in the company's UK-based artisan kitchen.
Flavours include: Milk Chocolate Caramel Peanut Bites, Milk Chocolate Toffee Caramels, Dark Chocolate Peanut Butter Snacks and Chocolate Honeycomb - available in both milk and dark chocolate variants, with dairy-free options also available.
Jimmy Attias, co-founder of Bean & Pod, commented: "Bean and Pod's Manchester based kitchen is artistry in motion. Our creative chocolatiers make everything by hand, in a room full of imagination. We are delighted to reveal this latest collection. Our chocolatiers use their passion and delicious chocolate to create this new range; they are classic well-loved flavours with our Bean and Pod touch of magic."
The company's range of Chcocolate Moments are Kosher certified and approved by the Vegetarian Society. All dark chocolate varieties are also Vegan Society approved.
Bean & Pod Chocolate Moments are available in 150g boxes (rrp £3.99). The new collection will be available in convenience stores this autumn.