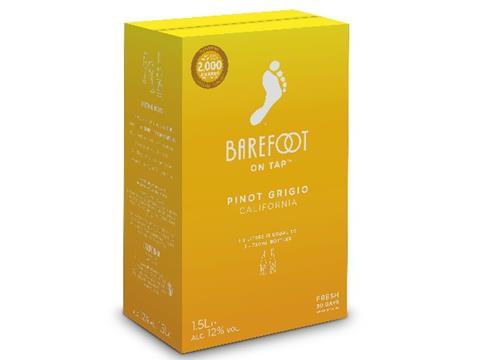 Barefoot has launched a new bag-in-box offering, Barefoot on Tap.
Launching in wholesalers and supermarkets nationwide this month, the new 1.5l bag-in-box range includes Barefoot Pinot Grigio and Barefoot White Zinfandel (rrp: £12.50).
Designed to appeal to consumers who are looking for refreshing wines for summer in a convenient, eco-friendly and slightly larger format, each box is the equivalent of two bottles, Barefoot on Tap aims to build on the success of the bag-in-box category which has seen 30% volume and 32% value growth in the grocery channel over the past 12 months (Nielsen).
"Ready when you are, whether it's at a socially-distanced BBQ or on a cosy night in for two, Barefoot on Tap enables you to enjoy Barefoot's award-winning wines for up to 30 days without compromising on taste," says Mark Stammers, sales director for UK & Ireland at E&J Gallo Winery. "Over the past 10 years, Barefoot has become one of the most recognisable brands in wine so we hope this new format will appeal to drinkers young and old, and contribute to the increasing success of the Bag in Box category as whole."
The launch of Barefoot on Tap will be supported by an integrated marketing campaign spanning social media, PR and in-store activations.