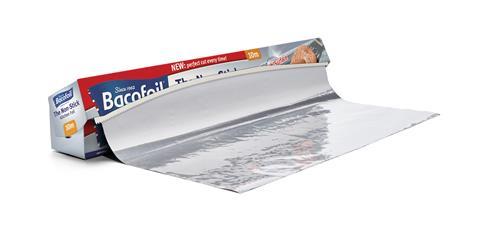 Bacofoil has launched new innovative packaging across key Original and Non-Stick Kitchen Foil SKUs. The new packaging promises to provide the user with the perfect cut every time, thanks to the introduction of a unique curved cutting edge.
In addition, Bacofoil Original and Non-Stick Kitchen Foil will now feature a new easy tear opening to prevent the box tearing at the wrong angle when first opened, as well as bevelled edges for easy and comfortable handling when in use, and a secure roll holder so the internal roll remains in its pack.
The launch comes after a positive year for the food wrap brand, with value growth over the last 52 weeks at 32.5% and volume growth at 30.3% - significant out performance of the food wrap category at 19% value growth and 12.9% volume growth.
The announcement follows a new and eco-friendlier Bacofoil PVC Free Cling Film, which launched last year. The clingfilm is now PVC-free and made with 15%recycled resources – making it recyclable after use. In addition, the outer packaging has also been manufactured using recycled material.
Other common cling film pitfalls are also addressed, as the product box now has an Easy Start Finder, which captures the end of the cling film making it harder to lose the end.
The launch was supported by a successful targeted social media and online advertising campaign themed around 'no swearing, just tearing', positioning the product as the frustration free way to wrap.
Zoe Lunn, senior brand manager at Bacofoil said: "We're always striving to make life easier for our customers, and our new packaging design definitely improves the experience at home, ensuring frustration free tearing every time."
The launch of the new, more sustainable products forms part of the Bacofoil Honest 100 strategy. This new pledge sees the business strive to achieve a more circular economy by 2025.