The pandemic has propelled the home care category forward as people seek to protect themselves from Covid-19. Here's how retailers can clean with household essentials and hygiene.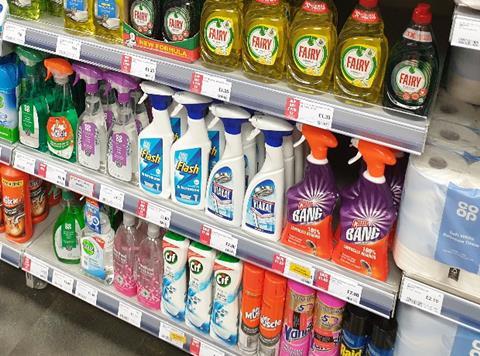 1. Value sales of household cleaning products soared a sparkling 62.5% YoY
If including paper in the total read for Home Care, household cleaning and paper products equate to 53% of the total category. claims DCS Group. "The sector has seen significant growth of +12% YoY, following the surge of shoppers panic buying toilet rolls at the beginning of the pandemic last year," says head of category and insight Matt Stanton.
The largest annual growth in the category sits within Household Cleaning; covering Kitchen, Bathroom, Multipurpose and Floor, which has collectively seen +62.5% YoY growth and is valued at over £15m (Nielsen – HHC – Impulse – Value Sales – MAT: 05.09.2020). "At the beginning of the pandemic we saw the panic buying of toilet paper, painkillers (including children's pain relief eg Calpol), and hand sanitisers sold quicker than stores were able to replenish," says Stanton. "Products with disinfecting properties soared in demand, including disinfectants, bleach and multipurpose cleaners. Multipurpose cleaners saw +44% growth YoY, driven predominantly by the growth of Dettol by +49%."
Cleaning has become a more important aspect of people's day to day lives as a result of the pandemic, he claims. "With the concern surrounding transmission of germs, the disinfection of surfaces is paramount," he says. "That paired with increased time spent in the home, has resulted in more cleaning occasions. We have therefore seen sales of household cleaning products soar in 2020."
This reflects what Jay's Budgens owner Pratik Patel is witnessing in-store. "Cleaning is definitely more important," agrees the London-based retailer. While most of his homecare sales have returned to where they were prior to covid he claims there are "five or six products doing better than the rest - Flash, Dettol and Cillit Bang do very well."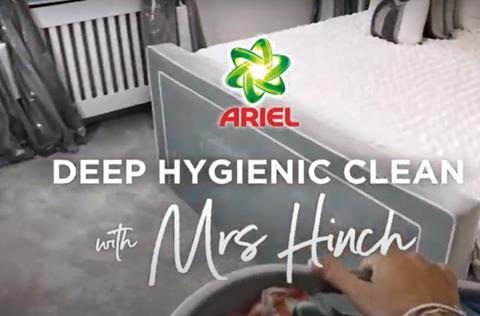 2. Every homecare sub-category apart from laundry is in growth
Laundry sales took a 3% dip as locked down consumers opted not to change their clothes as frequently (Nielsen – Laundry – Impulse – Value Sales – MAT: 05.09.2020).
Ariel owner Procter & Gamble has been working hard to turn the tide. The company conducted research in September and found that out of 2,000 adults, over half were happy to wear the same piece of clothing more than once without putting it in the wash, while almost half admitted to taking dirty clothes out of the washing basket and re-wearing them. 25% of the respondents blamed their lack of enthusiasm to find an alternative piece of clothing as the reason why they re-wear dirty clothes and three quarters admitted to doing the "sniff test" before wearing a non-washed item. But, an expert from Ariel Labs explains: "Clothes can appear deceiving on appearance. 34% of Brits believe if there is no obvious stain or smell it is easy to assume it doesn't need washing and can be re-worn as many times until it does. However, this is not the case. While we tend to focus on the dirt we can see however this only makes up a small proportion of the total dirt on an item clothing." The firm has been running a campaign featuring Instagram cleaning influencer Mrs Hinch, who has 3.9 million followers, to communicate this message to consumers and encourage them to wash their clothes regularly - even if they don't appear dirty!
In 2020 people spent less time out of the home than they have done previously, and this had a direct impact on categories such as laundry, states DCS Group. "With people having fewer occasions to dress up for, laundry was the only category within the Home Care category not to see growth YoY," says Stanton. "Laundry is the second largest segment within the Home Care category behind paper, at 14% [ibid]."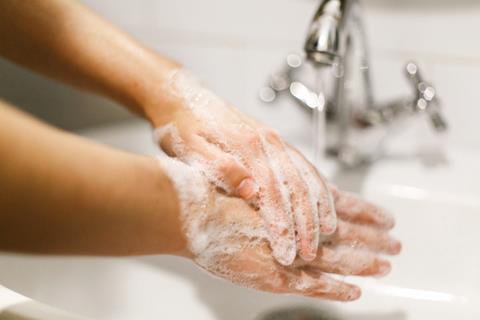 3. Hand hygiene habits are here to stay
With people spending more time at home and the news of the pandemic constantly on the news, health and hygiene are a regular concern for millions of people, claims Zoflora. "Household cleaners, soaps, and hand sanitisers are still at the top of consumer's shopping lists," says Sarah Fozzard, head of home hygiene.
Consumers are becoming increasingly driven to protect their loved ones through hand and home hygiene, and we believe cleaning and disinfectant products are going to be in demand for quite some time to come."
The need for washing and sanitising our hands has become automatic to many of us through the pandemic, claims DCS Group. 62% of people say their hand hygiene habits will change forever (Dunhumby Shopper Thoughts 2020) and hand wash and hand sanitiser saw spectacular sales in 2020, with hand wash up +162% YoY and hand sanitiser up a stonking 720% YoY (Nielsen, Impulse, Value Sales – MAT: 05.09.2020). "This growth has been driven by the market leaders Carex and Enliven- who have seen over +1000% YoY growth," notes Stanton. He observes that antibacterial hand wash sales are up 180%, with 3.8m more shoppers buying hand wash products [Nielsen - Total Market - Value Sales - MAT: May 2020]12. 44% of people expect to continue using more hand wash than they did previously, and 22% expect to keep a store of hand wash at home to make sure they don't run out [Dunhumby Shopper Thoughts 2020]11.
"At the peak of it [panic buying], the hand gel was going crazy - it was ridiculous," claims Pratik. "Hand gel has kept up momentum, everywhere people are using Carex, Dettol - little bottles of hand gel." He believes that high levels of hand hygiene will become the cultural norm for children. "That will grow up with this generation now and become an everlasting thing."
Spar Preston Road in Weymouth saw high demand for sanitizer. "The pocket hand sanitizers were very popular and the bigger ones for home," says owner Barbara Clements. "We aren't selling as much as we did in the first lockdown, but sales are definitely up on what they were. We also sell lots of the Carex liquid pump."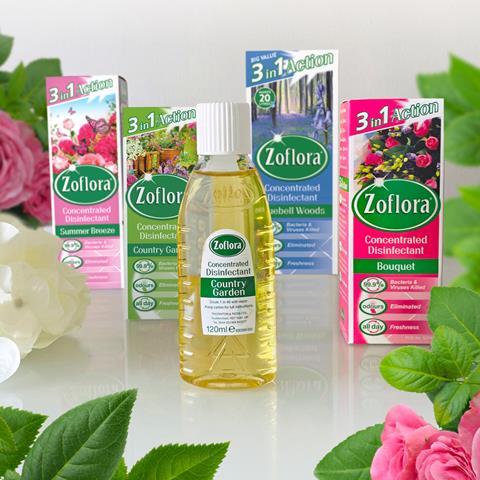 4. The liquid disinfectant market has grown 68% YoY
The demand for disinfectant products has risen significantly in 2020, as the global pandemic has highlighted the importance of home and personal hygiene, as well as an increased need to protect businesses, homes and loved ones from the virus, says Zoflora. "Unsurprisingly the household cleaning market saw a huge surge in 2020, with the liquid disinfectant market growing 68% in the last 52 weeks, with a shift forward in terms of category penetration from 29% to 44%, meaning 4.2 million extra households shopping the category [Kantar, 52 w/e 27/12/2020]," says Fozzard.
She predicts that this growth will be maintained as home hygiene remains a priority during the pandemic. "We expect these new cleaning habits to continue as this behaviour becomes the norm in everyday life, including regular disinfection of door handles, steering wheels, light switches and other regularly touched surfaces around homes and businesses."
Barbara has noticed increased demand for liquid spray at Spar Preston Road. "We sell more Dettol spray than we did [pre-covid]," she says.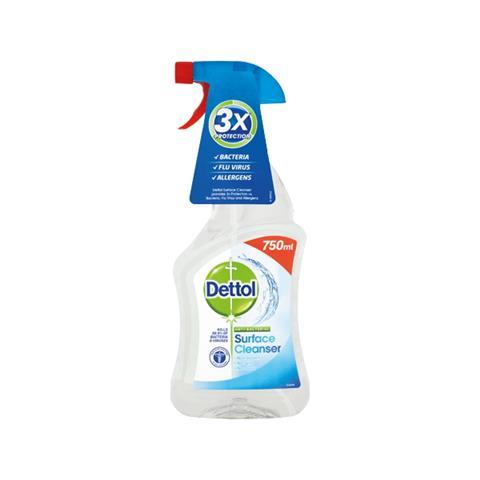 5. Consumers are actively seeking products that make antibacterial claims
Antibacterial and disinfectant properties have taken top priority, according to DCS Group. "The importance of antibacterial and disinfectant products has been the biggest change to the Home Care market in 2020," says Stanton. "The introduction of additional lines in the sector, and the growth of existing ones, has meant that these lines take prevalence over the duplication of other categories on shelf. Whilst we often see trends that are temporary, we anticipate the demand for antibacterial/disinfectant is here to stay."
He adds: "Where previously shoppers may have looked for the most efficacious cleaning products, focus has shifted firmly towards the disinfecting properties of products." Leading household cleaning brands such as Flash, Dettol and Mr Muscle have updated on pack claims to call out; 'anti-bac' and 'kills 99.9% of bacteria'. Flash has also developed bottle stickers that now claim to kill Coronavirus.
"Consumers are now actively seeking out products with proven germ killing abilities," concurs Fozzard. "We are pleased to confirm that Zoflora has been scientifically proven to be effective against SARS-CoV-2, the strain of coronavirus responsible for the current pandemic. Zoflora is one of the few disinfectants in the UK that has been tested on the most recent strain of coronavirus, and conforms to the European standard relating to the virucidal activity of chemical disinfectants. This result has set Zoflora apart from most other household disinfectants and has driven an increase in consumer affection for the brand, as well as driving sales in the last quarter." The firm has 10 new seasonal fragrances planned for launch this year, as well as a multi-million pound media campaign to bring more people into the brand.
Customers at Jay's Budgens are shopping for antibacterial products from big brands. "Everything that had antibacterial on it would sell during the first lockdown," says Pratik. "We still sell more antibacterial wipes from Flash and Dettol."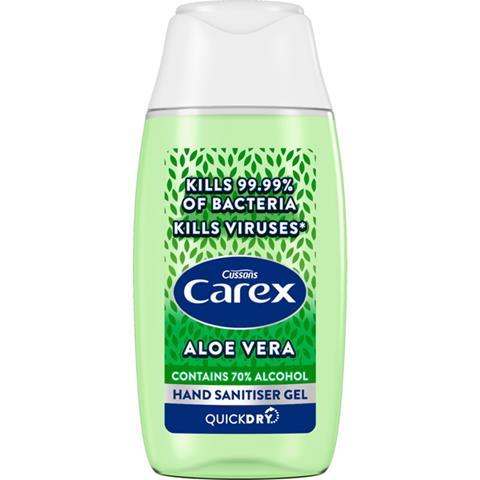 6. 65% of hand sanitiser purchases are made on impulse
65% of hand sanitiser purchases are made as an impulse purchase, according to DCS Group. Their location in store is therefore worth careful consideration. "With extra space in store, retailers should look to allocate dedicated display space to antibacterial products – such as gondola ends and FSDU's," says Stanton. "This category will help to drive basket spend and impulsive sales. Where possible, antibacterial lines should be double-sited in the busiest areas of the shop, such as at the till point."
Jay's Budgens has an area dedicated to hand sanitizers with masks and disposable gloves. "It's a whole new section now in a prominent place," he says. "We put the Dettol hand wipes on the counter now."
Stanton also recommends that retailers employ cross-category merchandising to grow sales of antibacterial lines. "Independent retailers should consider listing cross-category lines, such as household disinfectant cleaners, hand soaps and sanitisers and anti-bacterial variants of personal care items such as deodorants and hand creams. Products such as Vaseline Antibacterial Hand Cream, Carex Antibacterial Bar Soap and Sure Antibacterial Deodorant are good examples of personal care products that have been innovated to fit with this trend."