Alpro has unveiled its biggest-ever national TV campaign with a new creative featuring global celebrity Usain Bolt.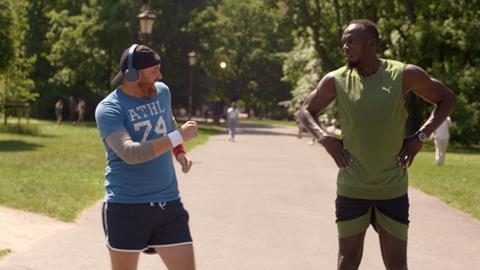 Designed to position the brand as a leader of growth in the plant-based category, the new 'Good For You' ad features an "everyday protagonist", Simon, who starts his day with an Alpro smoothie, followed by a morning jog.
Simon is caught by surprise when he's overtaken by Bolt mid-run but he carries on undeterred – and ends up overtaking the world champion runner at the end of the creative.
Commenting on the campaign, David Jiscoot, marketing director at Alpro UK & Ireland, said: "We're determined to tip plant-based food and drink, and Alpro, well and truly into the mainstream, which is exactly why we've put a message that's sure to resonate with the masses at the heart of this campaign.
"It's also why we've made this our most exciting, different and high-profile campaign to date, with British comedian Hugh Dennis also joining proceedings to provide his instantly recognisable voice and unbeatably dry wit for the voiceover."
Alpro is also promoting content featuring Usain Bolt across its YouTube, Facebook, Instagram and Twitter channels and is investing in a programme of PR and social media, plus paid media and shopper marketing.
This will include influencer partnerships, a media partnership with BBC Good Food and the creation of bespoke digital content to target millennials.