Convenience retailers have a growing opportunity to profit from the sale of plant-based milk alternatives, which are becoming increasingly popular with British shoppers, new research from Mintel has revealed.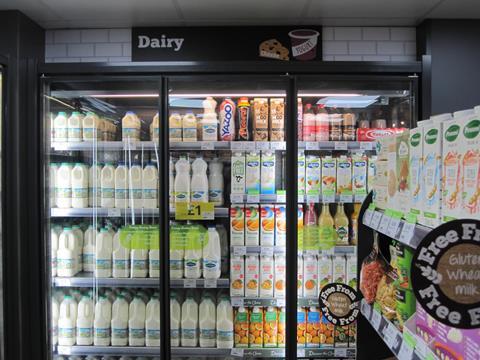 Almost a quarter (23%) of Brits said they had used plant-based milk alternatives in the three months to February 2019, up from 19% in 2018, the findings, taken from a survey of 2,000 internet users, showed.
Growth of milk alternatives is largely being fuelled by more recent category entrants such as oat (volume sales of which grew 71% between 2017-18), coconut (up 16% between 2017-18) and almond variants (up 10% between 2017-18), all of which have grown in visibility as well as availability in 2018, Mintel said.
And as plant-based milk products vie for a larger share of dairy aisle space, the findings also reveal that standard cow's milk is losing favour with young people, with usage falling among those aged between 16 and 24.
Peter Patel, a Costcutter retailer in Brockley, London, told C-Store that sales of non dairy milk had soared by about 50% year on year, but not at the expense of dairy milk.
"There's high demand for non dairy milk, especially for the Oatly and Alpro products: we do all their skus. Demand for dairy is has remained the same though, so it's a bonus," he said.
The research revealed that young peoples' usage of standard cow's milk fell to 73% in 2019, down from 79% in 2018, with 37% saying that they have reduced their usage for health reasons.
Environmental concerns are also playing a role, with 36% of 16 to 24 year olds most likely to agree with the statement that dairy farming has a negative impact on the environment.
While cow's milk still accounted for the vast majority of white milk sales in 2018 (96%) its usage is becoming increasingly skewed towards older consumers, peaking at 92% among over-45s.
However, while plant-based milk alternatives continue to grow in popularity, they still only accounted for just 4% of volume sales and 8% of value sales of white milk in 2018.
Furthermore, just 25% of people who buy plant-based milk alternatives use them in cooking, compared to 42% for standard cow's milk users.
In addition, only 42% of people who buy plant-based milk alternatives use them in hot drinks, compared to 82% for standard cow's milk users.
The findings highlighted significant opportunities for further growth in the plant-based milk alternatives category, with 65% of plant-based milk users saying that they would welcome advice on how to use plant-based milk/cream alternatives in cooking and baking, Mintel said.
"Plant-based milk alternatives continue to make further inroads into the mainstream, with high levels of innovation activity," Mintel's associate director of UK food and drink, Emma Clifford, said.
"Growth in this segment forms part of a much wider plant-based movement, driven by concerns around health, ethics and the environment, as well as by consumers' love of variety in their diets.
"The shift towards the higher-priced plant-based alternatives will carry on, helping to add value to the market overall," she added.
The research also highlighted that consumers are largely unfazed by small price rises in standard white cow's milk, with 40% of users saying they would pay more than £1.20 for a four-pint bottle – up from 35% in 2018.
The price for a four-pint bottle of standard own-label cow's milk stood at around £1.10 in April 2019, the same as in March 2018.
"This attitude aligns closely with our research which shows that 44% of people say small price rises in milk do not matter and reflect milk's relatively small role in the overall grocery budgets," Clifford added.