Alpro has given its product range a complete makeover with an updated logo and packaging design to help convenience retailers capitalise on the trend for plant based food.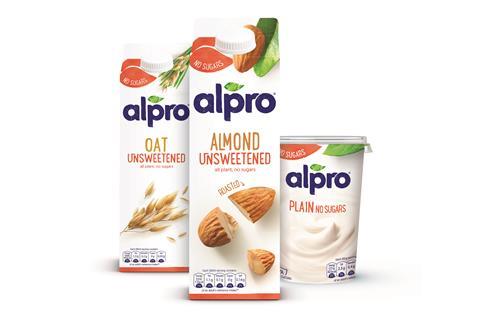 Rolling out across the brand's plant-based drinks and yogurt alternatives, the refreshed offer will be backed by a 'Good for You' marketing campaign and new launches.
As well as featuring a more contemporary look and logo, Alpro's redesigned product range boasts hand-crafted illustrations and front-of-pack nutrition labelling for the first time.
Health claims such as 'no sugars', 'high fibre' and 'low in saturated fat' also feature more prominently on pack to help the Alpro portfolio appeal to more mainstream consumers.
In addition, Alpro is looking to continue its move into the on the go market, following the 2018 launch of its Caffe drinks, with the introduction of grab and go yogurt pots and additional formats rolling out later this year and in 2020.
Commenting on the opportunity that plant based products offer retailers in the convenience channel, David Jiscoot, marketing director for Alpro UK & Ireland, said: "At present, around £1 in every £10 spent on plant based food and drink is going through convenience, with sales having risen by +34% in this channel in the last year alone [Nielsen 26/01/19].
"The plant based category is booming and this means that now is the time for convenience store owners to realise the full potential of plant-based sales in this channel, by stocking the plant-based brands and core range of products that can help them to grow their sales."
He added: "Our new packs are perfectly placed to attract even more new shoppers, as well as increase frequency of purchase among our existing fan-base, with our own research showing that eight out of 10 people would be likely to buy Alpro under the new branding [Alpro Packaging Redesign Qualitative and Quantitative Evaluation April 2019]."
Tom Kerr, head of category at Alpro UK & Ireland, commented: "The recent sales success of plant-based food and drink is obviously fantastic news for operators, but there is still plenty of scope for growth.
"As the category's leading player, Alpro is the brand that retailers should turn to because value sales in grocery retail are growing rapidly as shoppers buy more of our products more often – with the average spend per trip up +7% and frequency of purchase up +5.3% year on year [Nielsen Scantrack 52 w/e 20/04/19].
He added: "In terms of what to stock, we recommend that a selection of our best-sellers, including our soya original, almond roasted unsweetened, oat original and coconut original drinks, all of which come in one-litre tetra packs. Our simply plain big pot is also a star performer in our soya alternative to yogurt range."
Alpro's new look packaging will roll out to convenience stores nationwide from mid-August.
PR, social, digital and shopper marketing will support the redesign for the rest of the year and POS materials will be made available to c-stores from September.