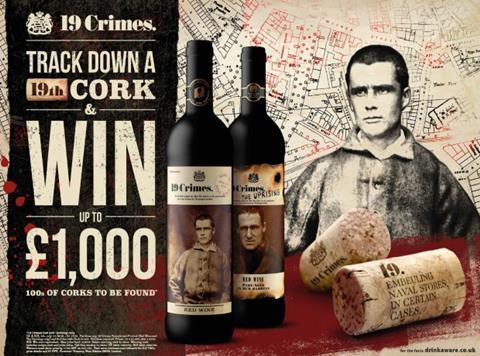 Treasury Wine Estates' 19 Crimes wine brand has unveiled the 19th Cork campaign.
The campaign will call upon consumers to find 'The 19th Cork' concealed within one of hundreds of winning bottles. Those who find a winning cork will win £30k worth of cash prizes. The promotion will run across major multiples, wholesale and convenience stores. There are 210 winning corks and once found, consumers can instantly win cash prizes.
The 19th Cork activation is live now until 31 October across the brand's Red Wine and Uprising varietals, and is being supported by a through-the-line campaign as well as in store activity across all major grocery and impulse retailers, and an extensive social media campaign allowing consumers to interact with the promotion and solve clues to find the location of some of the winning bottles.
As part of the campaign, the brand will also open The Cl(INK), a pop-up tattoo parlour in Shoreditch London where 19 Crimes enthusiasts can get a free tattoo from leading tattoo artists, with designs inspired by the 18th century. Should consumers opt for the secret 19th design, they'll get a bespoke 19 Crimes tattoo, along with a clue to the location of a winning 19th Cork bottle.
Head of Marketing for EMEA at Treasury Wine Estates Ben Blake said: "As the 19 Crimes brand continues to make waves, we are striving to provide its audiences with memorable and engaging experiences that push the boundaries of the wine category and encourage our consumers to discover more. The 19th Cork campaign is a unique, shareworthy concept that we are confident will drive huge visibility and talkability of the 19 Crimes brand."