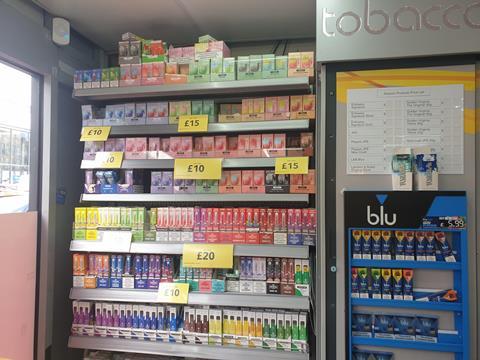 1. Tobacco and e-cigs make up 33.8% of basket spend at indies
Whatever the fiery rhetoric from Rishi Sunak, tobacco and 'reduced risk products' are still far from their last gasp at c-stores.
Stats show that the category is in 14% growth in symbols and independents, beating the total market, which is up five per cent [IRI]. Plus, tobacco and e-cigs represent a huge 33.8% of average basket spend for shoppers at indie retailers [ACS The Local Shop Report].
That's not to say that fags are back in fashion, Traditional tobacco is still in serious decline. Instead, all the growth is coming from the new generation of e-cigarettes and tobacco alternatives.
As a non-smoker, Valerie Aston, director of Proudfoot Supermarkets, says that when vapes first hit the market it was hard to get a clear view of the category through the fog of hype.
"Vapes exploded into the market pre-Covid and if you visited any trade show at that time nearly every other stand was a company selling vape machines and liquids!" she says.
"You were blinded by the choice available, and as a non-smoker, struggling to understand or receive an impartial view on trends and key sellers."
Now the market is more mature it's much easier to spot the category winners. Her mantra now is "keep it simple": Valerie sticks to a tight edit of best-sellers to present a clear offer to shoppers.
"You don't need to overcomplicate it, creating confusion for both customer and colleague – keep it simple, with clear price points and merchandising," she says.
This approach appears to be working. Over her four stores the vape category makes over £12,000 a week – "with strangely, little or no impact on our cigarettes sales."
There are massive profits to be had, too. Even with two for ten pound offers vapes can provide continuous margins of over 50%, far higher than traditional fags.
Ken Singh from BB Superstore in Pontefract adds that the cost-of-living crisis has buoyed the popularity of vapes.
"Pricing has had a big play on it," he says. "People feel a bit stung in their pocket and see vaping as a preferred option to a twelve pound packet of cigarettes. You've got vape products for under a fiver as well – so it's just cheaper than smoking in the old sense."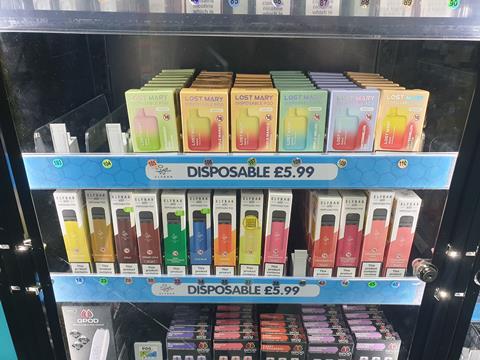 2. Disposables make up 91.5% of the e-cigarette market
It's no surprise disposable vapes generate most of the heat in the category. Despite intense media notoriety around safety and eco-concerns, they're still a big (nicotine) hit with vapers.
"We're currently seeing significant growth in the disposables category," says Tom Gully, head of consumer marketing UK&I at Imperial Tobacco.
"The disposables market saw a remarkable increase from £141m in 2021 to £973m in 2022 [ITUK]. In order to cater for this growing demand, we announced our entrance into the expanding market with our blu bar disposable vape range."
Flavour has been a big selling point. The top three flavours in the UK, according to UK vape shop Ice Headshop, are Strawberry, Watermelon and Berry. Yet Valerie says that, in her stores, brand now trumps flavour every time in disposables.
"Disposable vapes are all about the brand – the key brands are Elf, Lost Mary, Crystal and Blu," she says.
"When there was the recent product recall on Elf we took Zillions from Supreme as a temporary replacement – this brand has now established itself within our range too."
Conversely, Valerie maintains that for e-liquids, price beats brand while flavour becomes more important.
"With liquids, value was key, so we worked with one supplier, Supreme, with their offering of 88 Vape Liquids complete with display stand," she says.
"We found if you had the flavour and price, brand was inconsequential."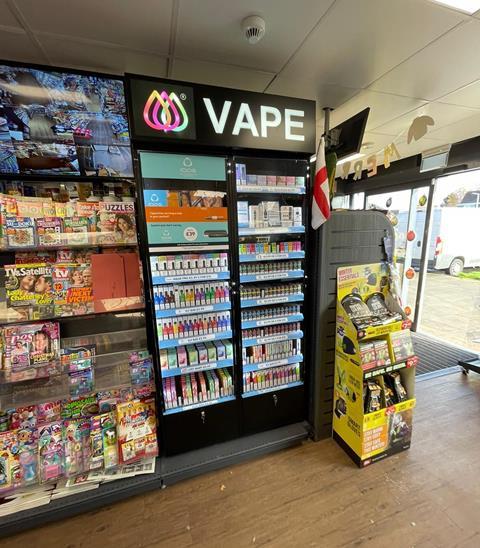 3. Vapes are migrating to the shop floor
Vapes have traditionally stayed behind the counter like their tobacco-based brethren. However, akin to OTC medicines, retailers are seeing results from shifting some onto the shop floor.
"We have a unit on the shop floor with the whole range of our vapes in just to run through all the flavours," says Ken. "That saves a bit of time at the counter. It's lockable and bulky so it can't really walk off!"
He adds that as shoppers have become more familiar with the brands the cabinet hasn't been as necessary. "It's not a confused market anymore," he says. "People have got accustomed to the range, they know what they want and come in and ask for it."
Gully believes that units can help educate people around range – even in smaller shops.
"It is always a good idea to have a strong visual display of vaping products, positioned away from the main gantry where possible, with clear information on pricing to enable customers to browse at their leisure without the need to handle and inspect products," he says.
"Where space is limited, even a small countertop unit can help achieve this, especially if it is well organised and fully stocked. Making sure it is positioned in a well-lit part of the counter will also help increase visibility of products even further."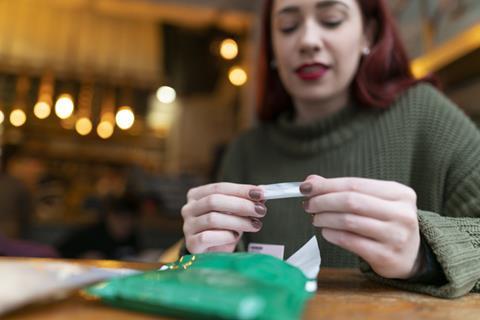 4. Rolling papers is the fastest-growing sector in accessories, up 13.3%
Tobacco accessories are on a roll right now, with year-on-year growth of 6.8%. Within that, rolling papers is the fastest-growing sector, growing at 13.3% and worth over £72m in convenience [both Circana].
The cost-of-living-crisis-fuelled shift to rollies is a big part of that sales bump. Gavin Anderson, sales and marketing director at Republic Technologies UK, says that the right display solutions can fire up sales even further.
"As demand for factory-made cigarettes continues to decrease, tobacco accessories are very well placed to offer consumers a quality and value alternative, but they must be effectively displayed," he says. be displayed effectively.
"Our latest branded display units not only enable retailers to showcase the very latest NPD, creating awareness and driving impulse purchase, they also enable retailers to signpost the wider tobacco category."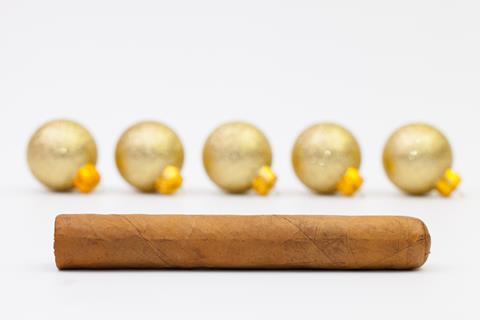 5. Christmas is posh stogie season as smokers trade up
Over in tobacco, Xmas is generally the time shoppers look to trade up. And for cigar smokers that means lighting up something premium alongside the Christmas tree lights.
"Typically, at Christmas time adult smokers will treat themselves and 'trade up', but of course this doesn't mean that retailers need to start stocking expensive Cuban cigars!," says Nataly Scarpetta, marketing manager at Scandinavian Tobacco Group UK (STG UK).
"It may be as simple as a Miniature cigar smoker opting to jump to a Panatella for example."
Size matters for these smokers with Scarpetta pointing out that shoppers "gravitate towards larger cigars when they're in a celebratory mood."
"We'd always recommend that retailers have brands like our Henri Wintermans Half Corona in stock as it is the UK's best-selling medium / large cigar, and a real festive favourite," she says.
"And on that subject, we've just launched a special limited-edition pack of our Henri Wintermans Half Corona which will hopefully make them even more popular among adult smokers in the run-up to Christmas."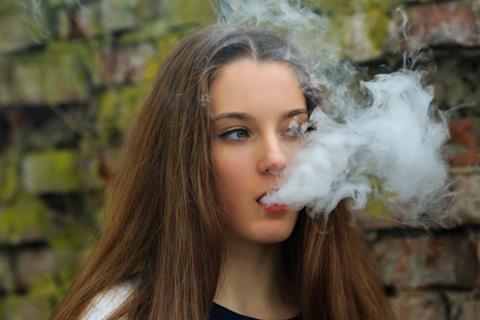 6. Regulation could still re-shape the sector
Even the tobacco industry admits that smoking is in terminal decline in the UK. Rishi Sunak's recent speech at the Conservative Party conference committing to a 'smoke-free generation' by hiking the age of sale is just another nail in the coffin.
But what about vapes? The government has launched a consultation on measures to reduce the appeal and availability of vapes to children.
Ken says that he welcomes the right legislation around compliant products and ensuring vape manufacturers don't target their products at kids – "when you're looking at products like this you think they probably shouldn't use names like 'Gummy Bear'".
But he likens any more stringent legislation to that around sugary products.
"We have to use our common sense as a society," he says.
"Let's make it an industry of choice. People should be aware of the pros and cons but be able to make their own decisions. We need a bit of common sense. In the industry I'm in, what am I supposed to sell if tomorrow there's nothing left to sell?"
Sections of the industry are lobbying hard against any future ban.
"Disposable vapes provide an easy and efficient entry point for adult smokers to adopt a less harmful next-generation alternative," says a spokesperson from Relx. "Therefore, to support efforts towards a 'smokeless' society, it's important to offer adult consumers the option of disposable devices."
It's not the only regulations on the table for retailers. Since the end of March 2023, shops have had to provide an option for consumers to dispose of vapes on a one-for-one basis under the WEEE (Waste Electrical and Electronic Equipment) regulations.
Brands are stepping up to help them. For example, Imperial offer a take-back disposal scheme through which shoppers scan a QR code for free return through Royal Mail.
Of course, retailers are used to regulation, with responsible c-store owners always following it. Yet off-the-record there's concern about how well rules are being enforced. For such a high margin product some rogue retailers may be tempted to break the law and risk any fine.
The Chartered Trading Standards Institute (CTSI) want to make sure that additional resource is provided so they can properly enforce Sunak's mooted regulations.
"We are pleased that the Government will be considering measures to minimise the appeal and sale of vapes to those underage – this has become a menace and huge burden to our Trading Standards teams across the country," says CTSI director of external affairs, Duncan Stephenson.
"This obviously needs to be on sustainable footing and we will seek clarification on what additional resources will be invested in Trading Standards."