How are c-stores re-caffeinating the category after lockdown?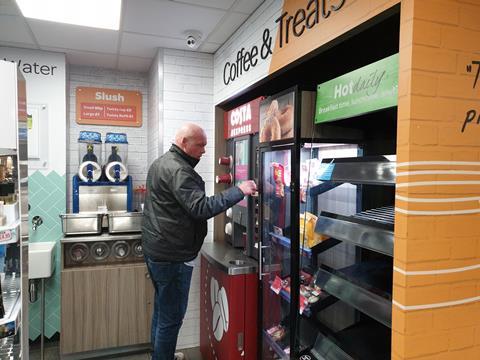 1. Half of food-to-go drink occasions include coffee
Coffee is still the nation's Central Perk when it comes to food-to-go. In fact, according to Lumina Intelligence, it now has a hefty 50.6% share of food-to-go drinks occasions, making it a key category component.
"Food to go – and therefore the hot drinks fixture – has become a key part of leisure activities over the past 18 months," says Paul Baker, founder of St Pierre Groupe.
"Journeys of all kinds are accompanied with a trip to the hot drinks fixture – not just the morning commute."
Plus, as anyone who's tried to order a latte through Deliveroo knows, coffee is much better grabbed out, than ordered in.
"Coffee is highly experiential and in many ways less suitable for delivery (due to low ticket price, making delivery fees unattractive, as well as high risk of spillages), driving consumers to return for coffee on the go occasions," says Lumina Intelligence insight director Blonnie Whist.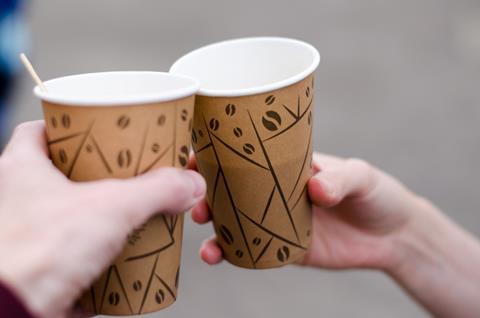 2. Over 60% of consumers want coffee at under £2 a cup
According to research from Nescafe almost two-thirds (61%) of consumers would be more interested in buying a freshly ground coffee-to-go if it was a well-recognised brand under £2 a cup (compared to a coffee shop). It also reveals that quality, price and speed of service are the three most important purchase factors.
"We have the Nescafe Azera Coffee To Go machines in our stores," says Richard Inglis, who runs three stores in Southampton.
"It works quite well for us. I reckon if we had [another well-known brand] we'd probably sell more coffee, but then they'd be taking more of our profits. I think people have an expectation of decent coffee, but if you go premium you have to have the footfall to cover it or it's going to be too expensive to run."
"We give away a lot of free coffee, to staff and also to the policemen who come in while they're on the beat," he continues. "That's helpful because it makes the staff feel secure: when the police walk in any unsavoury characters walk straight out!"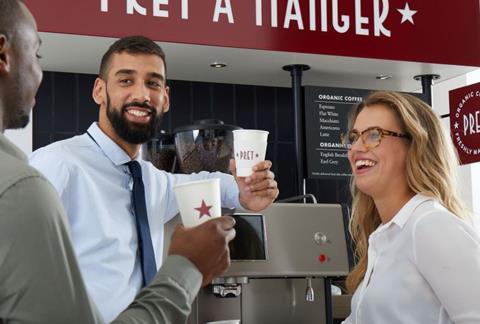 3. Over half of coffee drinkers say they typically drink branded coffee while out
Coffee-to-go is dominated by big brands, with 53% saying they typically drink branded coffee while out (What's new for coffee, OMNE, December 2020). So it's no surprise that other High Street big hitters are following Costa's lead and getting in on the c-store action. The latest is Pret, who is rolling out the big-city coffee experience to local stores.
"We believe in offering consumers much of the same products from our machines as they would get in store," says a spokesman.
"Pret Express machines will offer 100% organic fresh milk and the same organic teas and coffees available in Pret shops – a first in the self-serve coffee-to-go sector. Express coffee machines will allow us to bring the same quality Pret drinks to more people in out-of-home locations."
Stuart Cordner from Cordner's Comber Road Spar appreciates that quality is key to getting the early morning market frothing over.
"People are really taking their cue from the North American market and going for a big vat of coffee first thing in the morning (and it's bloody good coffee too!)," he says.
"We have the Henderson's Barista Bar concept and it comes with luxe size cups and syrups so you get the real coffee shop experience. We find the profit margin on coffee is higher than anything else instore – and sales are up 25% year-on-year. It can be a real frenzy from 7.30am – 11am."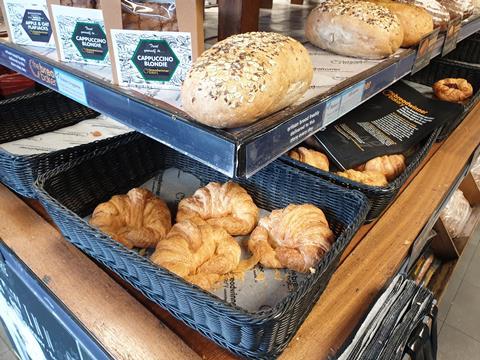 3. Morning goods and speciality breads are up 6.6% (Nielsen)
So where does bakery fit into the picture? Nothing goes together like coffee and a croissant, and figures show that sales are on the rise.
"[We can see that] morning goods and speciality breads are up 6.6% year on year (Nielsen, Oct '21)," says Baker. "Croissants, as a sub-category, have performed particularly well with double digit growth across 52, 12- and four-week periods – suggesting their popularity isn't driven by Covid alone.
"Pancakes, brioche and pains au chocolat are all performing well [too] - further reason for retailers to look at how to upgrade their hot beverages fixtures in-store."
That's all great news. But the problem retailers have right now is making sure availability is there against a backdrop of driver shortages and creaking supply chains.
"We've looked at shutting down our bakery on some days because sometimes we've hardly ever got stuff to bake," says Richard. "We're reliant on the deliveries and if that delivery doesn't show up then suddenly we've got no croissants."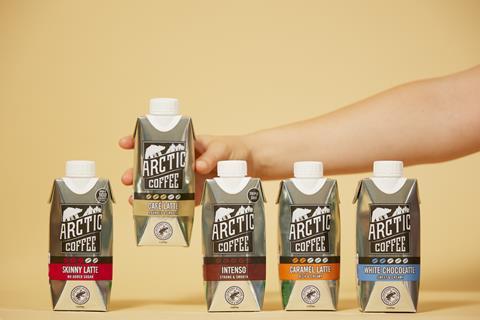 4. The RTD coffee sector is worth more than £190m (up 30.6%)
One product Stuart's noticed making inroads in food-to-go is ready-to-drink (RTD) coffee. "Demand is being driven by big brands like Starbuck's and Costa," he explains. "We're finding it's a slow-burner at the minute, but I'm really confident it's got legs."
According to Nielsen, the RTD coffee sector is worth more than £190m and is up in value by 30.6%.
"RTD coffee caters for a variety of need-states, from a much-needed boost to a well-deserved treat," explains Amy Burgess, senior trade communications manager at Coca-Cola Euro-pacific Partners.
"The success of our Costa Coffee RTD range can be put down to the strength of the Costa brand and the quality of what's in the can. The range is a 'coffee-first' (low milk and sugar) proposition making it an appropriate pick-me-up to enjoy every day."
At the other end of the scale, homegrown challenger brands like Arctic Coffee are carving out a niche for themselves in the chiller.
"The fact we're not a big corporate brands helps people see it as an alternative to all that," says Jo Taylor, brand manager at Crediton Dairy.
"Our brand appeals to younger people that are on the move, which works well for c-stores. Taste is important, and a lot of people are buying it for the caffeine pick-me-up too, as well as the delicious chocolatey flavours.
"The challenge for stores is always space, and we want to invest more in the sector for 2022."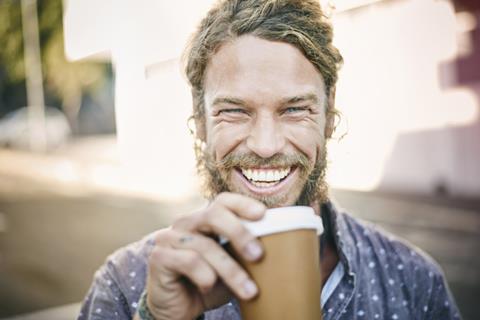 5. Coffee with functional benefits appeals to 48% of drinkers
From iced coffee to Pumpkin Spice Lattes, retailers are always looking for the next big trend in to-go drinks. Mintel reports, functionality is big in tea, and may well spread to coffee soon with the group's latest research revealing that coffee with functional benefits appeals to 48% of drinkers.
So could there be an opportunity for CBD-fortified coffee to go?
"CBD is one of the breakthrough products of the health and wellness trend which is very current now," says Alex Tofalos, director of CBD One.
"As a UK based wellness company dedicated to the supply of high quality, 100% legal CBD products in this country, we are confident that a breakthrough into the mainstream will be made possible by the versatility of our new products. These give bakers and other operators the opportunity to create custom made bakes, drinks and hot beverages quickly and easily.
"Our One Shot allows a shot of CBD to be added to order to any drink or hot beverage. Easy for the staff of c-stores to operate, the pump action bottle can be kept behind the till and a shot simply added to a hot drink on demand, at an extra cost."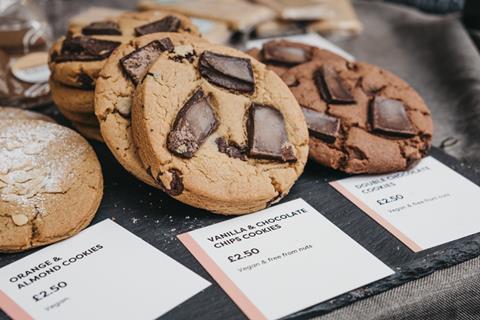 6. There is growing interest in plant-based sweet bakery products
As demand rises, vegan choices are colonising many c-store categories – and bakery is no different.
"We have identified a huge growth in flexitarian diets in recent years, with 86% of sweet ISB bakery plant-based vegan eating occasions in the UK in fact eaten by non-vegans [Kantar]," says John Want, sales, marketing and R&D director at Rich's.
"Over the last two years British households have shown a genuine behaviour shift toward eating plant-based products and it has grown from a niche offer to all-year-round mainstream listings within retail.
"We produce a number of plant-based bakery lines for leading UK supermarkets, coffee shops and OOH outlets, and we've seen an increase in interest in plant based sweet items in the past 18 months, with Veganuary the key launch window in the calendar."