Spruce up your seasonal sales with these key insights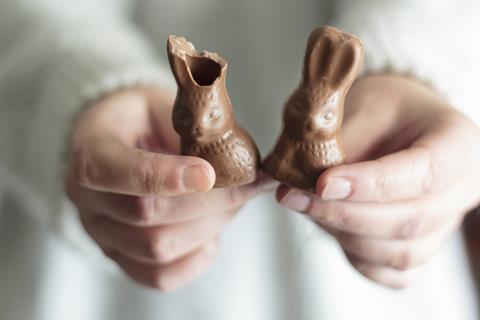 1. Over half of Easter confectionery is eaten before Easter
Mondelez claims that time is of the essence because more than half of Easter confectionery is consumed before Easter. "This shows just how important it is to capture consumers right at the beginning of the season to drive spend and impulsivity," says Nash.
She adds that around three quarters of shoppers who purchase Easter confectionery early intend to buy again (Nielsen, NIS, Various Markets, Total Spring, Value Sales, 18wk to 03.04.21 vs 19wk to 10.04.20, IRI, Temple, Various Markets, Value Sales, 18wk to 04.04.21 vs 19 wk to 11.04.20). "It's important to have the products they're looking for to meet these consumers' shopping expectations," she says.
To make the most of the season, Mondelez advises retailers to split Easter into three phases: getting off to a quick start, building momentum, and then gearing up for a 'gifting finish' as the festive period reaches its finale. The first of these phases, 'fast start', runs from January until Valentine's Day. The 'fast start' phase focuses on shoppers looking for small treats for themselves, such as Cadbury Crème Egg and Cadbury Mini Eggs.
The firm claims that Creme Egg is the number one Easter brand, with three Cadbury Creme Eggs sold every second during the season (Nielsen Insights, Total Market excluding Discounters, 18 wks to 04.04.21).
Eugene is one of the first retailers in the UK to get his Easter impulse lines on shelf each year. "I have people coming in from the beginning of November asking whether we have Creme Eggs in yet," he says. "Without a doubt they're our bestseller. People are coming in and buying six or 10, they just love Creme Egg! We're already well into our second hod!"
In the past, his early Creme Egg appearances have been reported in the newspapers, and even on TV! "It's about the buzz and PR you get out of it all," he says. He also points out that getting his smaller Easter lines in early means he isn't competing with the multiples. "When the big boys do it they're selling them on promotion at next to nothing," he says. "This way you get a four week head start on them."
Mondelez claims that while Cadbury Creme Egg was the number one brand last Easter [Nielsen Insights, Total Market incl Discounters, 18 wks to 04.04.21], the Cadbury Mini Eggs 80g bag was in fact the number one selling product across all Easter SKUs in 2021 [Nielsen Insights, Total Market excluding Discounters, 18 wks to 04.04.21].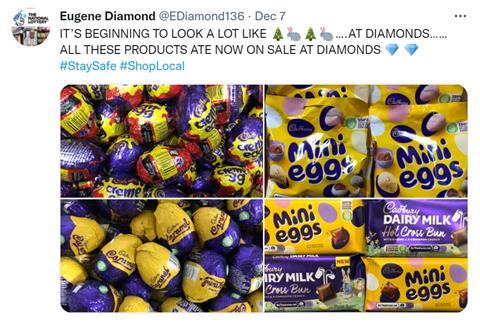 2. Small sharing and novelty confectionery can account for 40% of early Easter sales.
It's the little things that make a big difference, according to Mars Wrigley, which claims that Kantar data shows small sharing and novelty confectionery can make up as much as 40% of early Easter sales. "Maltesers Bunny is the UK's most successful chocolate product in the novelty shapes category in both value share and sales," claims senior brand manager for Easter Sophia Padt. "Last year, Maltesers Bunny value sales grew by an impressive 53.6%, driven by sales of the classics as well as NPD in the category [NielsenIQ Scantrack | Easter: data to w.e.03.04.21]." Maltesers Orange Bunny is back this season after a successful debut in 2021.
Eugene Diamond of Diamond's News in Ballymena, Northern Ireland stocked the orange bunny from December last year as it was a new launch, but this year he's holding off until the new year. "I get the Malteser Bunnies in from early January," he says. "The bunny is brilliant, but sometimes you do too many variants of something and you shoot yourself in the foot."
However, he has had Cadbury Creme Eggs out since November and is also carrying Cadbury Mini Eggs and the Cadbury Dairy Milk Hot Cross Bun bar, which is new for the 2022 season. "My merchandiser is very good, he told me the Dairy Milk Hot Cross Bun was coming - it's selling well already," he says.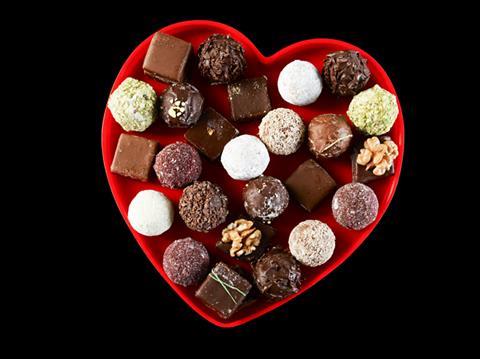 3. Last Valentine's Day confectionery sales were up 44% in indies and symbols
Consumers had plenty of love for their local shops last Valentine's Day, according to Mondelez International. "Valentine's Day confectionery in 2021 grew an amazing +44% in independent and symbol stores (Nielsen, NIS, Valentine's Day, 3 weeks Data to 15.02.21)," says trade communications manager Susan Nash.
Mark Walker, sales director at Swizzels, said: "Valentine's Day in particular, is a key event in the confectionery calendar with sales growing year on year [IRI 2 week data to 14/02/2021].
"As lockdown restrictions applied last year, we were unable to celebrate Valentine's Day as we usually would. We expect to see a growth in sales for Valentine's products this year due to an emphasis on gifting - as customers will be looking to make up for the lack of festivities in 2021. With Valentine's Day generally being less of a social occasion than Easter or Mother's Day, we wouldn't expect it to be greatly affected if Covid restrictions were to be reintroduced."
Placing complementary products alongside each other can help to inspire consumers, suggests Ferrero. "Each spring event also presents an opportunity to maximise in-store basket spend through cross-category promotions and focal displays, for example, displaying floral bouquets alongside boxed confectionery for Valentine's Day," says Levi Boorer, customer development director at Ferrero UK.
Nisa Local High Heath's Amrit Pahal is confident that the celebration will go well this year. "We had good sales last Valentine's Day - I think this year will be the same," he says. "Rolling off the back of 2020 - we've got increased custom, increased customer awarenes and a massive kick back from people not being able to do it last year and they'll want to do it even more this year."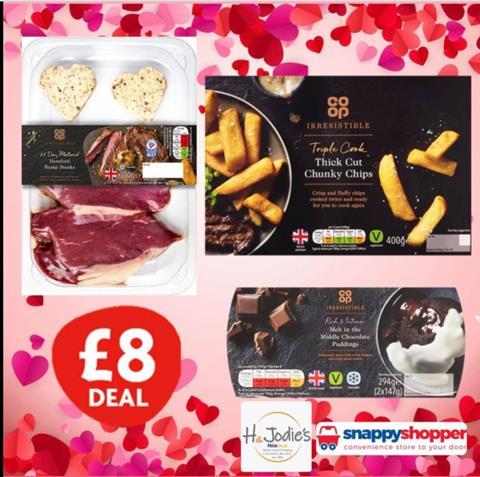 4. Consumers may choose to stay home on Valentine's Day regardless of social restrictions
After almost two years of entertaining guests in our homes and gardens, the pandemic has opened many people's eyes to the perks of staying in, states Schloss Wachenheim, owner of alcohol free wine brand Eisberg. "Not only is it safer, it can often be cheaper and more relaxing," says Dan Harwood, key account manager UK & Ireland. "Valentine's Day comes with its own set of challenges, including trying to get a table booking and a taxi home. We see this trend continuing into 2022 as people seek to avoid the stress of busy and expensive evenings out, as a fun evening or romantic dinner can be achieved at home."
Amrit was well prepared for consumers staying in last February, offering a romantic meal deal for two (pictured). "Last year we had steak and wine and chips on a meal deal for Valentine's Day," he says. "It worked great because people were at home. There was a lot of skepticism about going out," he says. However this time round he is ordering less of these products and focusing more on gifting. "I wouldn't bank on people staying at home," he says. "I think more people will want to go out."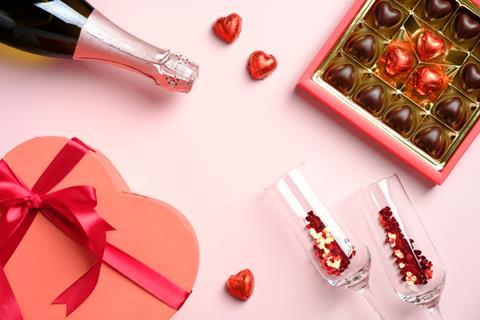 5. The pandemic has fuelled consumers' love of premium
Affordable luxuries will be much sought after this Valentine's Day, according to Eisberg. "Consumers have developed a taste for premium, luxury food and drink items as the pandemic has seen people treat themselves to small indulgences," says Harwood. "As people sought to recreate the novelty feel of a night out over lockdown, Brits splurged on spirits, wine and beer, while sales of cocktail ingredients and premium drinks and snacks rose exponentially. This trend will no doubt continue to include Valentine's Day as people continue to treat themselves during this special occasion."
Despite lockdowns limiting sales opportunities in 2021, luxury boxed chocolates Thorntons Continental and Classic have generated sales of £29.1m and £13.7m respectively (Nielsen; Celebrating and Entertaining Confectionery; 52 w/e 23rd October 2021).
Levi Boorer, customer development director at Ferrero, said: "There weren't as many opportunities for shoppers to buy boxes of chocolates to gift and share with loved ones … but people still wanted to show they cared and where they were gifting, chose to do so with brands they know and love such as Ferrero Rocher, Raffaello, and Thorntons."
Amrit believes that people will be happy to pay a little extra. "We have more shoppers through the door from lockdown," he says. "There's a lot of pent up disposable income that hasn't been spent. We plan to captialise on gifting with gift packs and presents."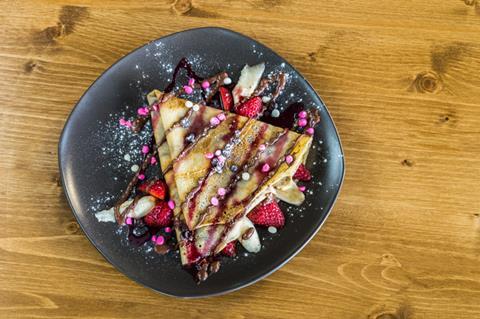 6. Pancake Day is the highest indexing event of the year for home baking
Dr Oetker highlights that Pancake Day, which falls on 1st March in 2022, is a big deal for the home baking category. "Pancake Day is the highest indexing event of the year (153) for the baking sector [Unify IRI 5 year data ending 6th November 2021] and sales spikes are often seen in the week before and maintained throughout the week of the event itself," says Jen Brown, head of marketing – Cake, Dr. Oetker Baking.
Of course, flour, milk, eggs and lemon are all essentials, but there are incremental sales to be made from going beyond the basics. "When it comes to which key products perform best over the Pancake Day occasion, a popular seller is [American pancake] base ingredient, baking powder, along with a variety of flavourings, with the top choice being Madagascan Vanilla," says Brown.
"Confectionery products such as chocolate chips and chocolate chunks are also popular and we also see other types of decorations over indexing more highly, particularly sprinkles."
She claims that in-store displays can drive uplifts of over 100%. "The best way to drive sales for pancake day is to use this feature space to inspire shoppers, including solutions for both from scratch bakers and convenience bakers with both base ingredients and ready-made mixes," she says. "Other key products to focus on are those that help consumers to decorate their pancakes." Dr. Oetker has a range of sprinkles including; Unicorn Confetti, Rainbow Magic, Chocolatey Caramel Crunch, Bright & Bold Sprinkles and a Chocolatey Mix.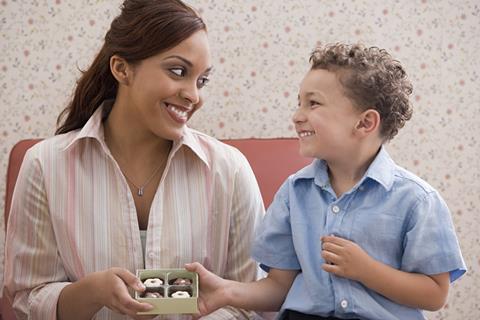 7. Mother's Day confectionery in 2021 grew +23% in convenience
According to Mondelez International, Mother's Day confectionery in 2021 grew +23% in convenience (Nielsen, NIS, Total Mother's Day, 2wks to WE.14.03.21 vs 2wks to WE.30.03.19).
Mother's Day 2022 is on March 27th, so Ferrero advises retailers to get displays up from the beginning of the month. "We would recommend that retailers showcase the occasions like Mother's Day or Father's Day in-store up to three to four weeks before they take place," says Boorer. "For example, using in-store POS displays that showcase the specific date of Mother's Day is a great way to remind people of the big day, as people don't often recall the date."
Amrit intends to make the most of the occasion. "We'll get into flowers, gifting and alcohol for Valentine's Day and Mother's Day," he says.