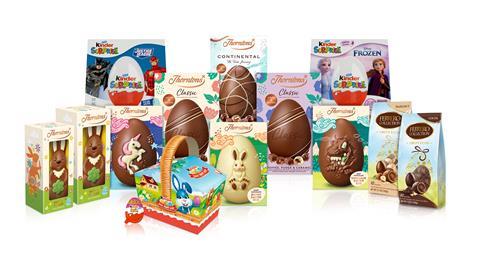 Ferrero is updating some of its Easter favourites for 2022. The Thorntons range of moulded figures is being relaunched with a new Happy Bunny character in 90g (rrp £2.79) and 170g (rrp £4.99) formats. Total Thorntons novelties delivered +25% in value sales and +11% in volume sales between Easter 2020 and 2021, claims Ferrero.
The Thorntons Classic Easter egg range will be available in 150g and 220g sizes, with the larger format supporting retailers in driving trade-up opportunities. Across its eight bestselling Easter egg range, Thorntons will be removing plastic windows as part of Ferrero's packaging commitment to make 100% of its packaging reusable, recyclable or compostable by 2025.
Ferrero Collection Crispy Eggs T10 are returning this year in hazelnut and cocoa flavours, to help retailers capitalise on the spontaneous self-treat occasion in the lead up to Easter. Meanwhile, Ferrero's larger Easter items such as the Ferrero Rocher Boxed Egg 275g; the Ferrero Rocher Flame Egg 212g; and the Grand Ferrero Rocher 125g should be stocked up on closer to the time as shoppers look for larger gifting items, advises the firm.
Levi Boorer, customer development director at Ferrero, says: "Our larger 220g Thorntons Classic Easter Egg can create trade-up opportunities in-store for those shoppers looking for something extra special before the big day, with these purchases often being planned in advance, whilst our smaller Ferrero Collection Crispy Eggs and similar self-treat products will begin to drum up excitement from as early as January, and tend to be a spontaneous decision whilst in-store."
Kinder Joy is returning for another season, after Kinder enjoyed +17% growth in the 13-week lead up to Easter. The brand is also making packaging design improvements across its range with a more distinctive design and refreshed Easter bunny image to maintain relevance for the Kinder brand during the season. Kinder has also recently expanded its expertise in play through a new digital playing experience. Applaydu is a free mobile app which brings Kinder toys to life through augmented reality in a fun world of discovery and imagination.