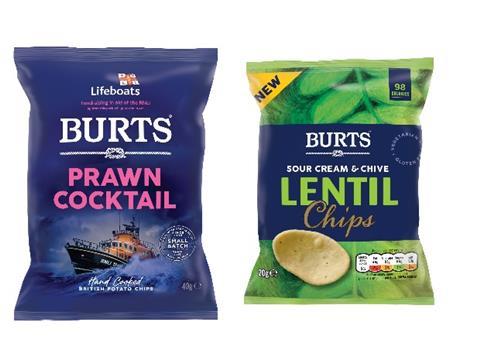 Burts has unveiled a new brand identity and a raft of new additions to its range.
Burts is launching refreshed packaging which brings Burts provenance to the fore. The packaging showcases the long-standing relationships with local independent producers such as Quickes Cheese and South Devon Chilli Farm, showing consumers that the chips are made with care in Devon.
The brand is also launching a new limited-edition Prawn Cocktail flavour, featuring a co-designed pack with charity partner, the Royal National Lifeboat Institution (RNLI). The new flavour will be available in both 40g and 150g, featuring a dramatic image of the RNLI's orange lifeboat at sea. As the brand rolls into its second year of partnership with the lifeboat charity, RNLI, its hero flavours Lightly Sea Salted and Salt & Malt Vinegar will continue to share the charity's lifesaving "Float to Live" message on the new packaging.
Burts is also launching a range of new Lentil Chips in the 'better for you' space in 20g and 85g pack sizes, available in Lightly Sea salted, Sour Cream & Chive and Barbecue flavours.
Its new Burts Ridges takes the brand into the fast-growing Ridge Cut segment. Bringing even bigger and bolder flavours to the category, Burts is launching two new flavours with a premium take on the trend of spicy seasoning and bistro foods - Reaper Chilli and Lime and a Steak Surf & Turf flavour. The packs are available in 50g grab bag and 150g share pack.