Lockdown has led to astronomic sales of home cooking products, will this continue in convenience in 2021?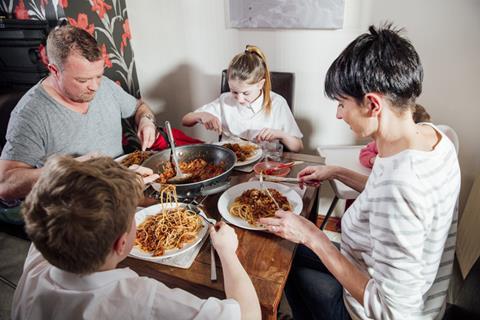 1. More than 91% of people intend to do as much or more cooking in 2021
Compared to before the pandemic, households across the UK are having 136 million more meals together at home each week [Kantar, Usage 12 w/e 29 Nov 2020]. And according to Premier Foods' new report The Kitchen Cooking Index, more than 91% of people say they intend to do the same amount of cooking, or more, in the year ahead. This can be broken down into 62% intending to cook the same and 29% intending to cook at home more.
Before Covid-19, 60% of meals were home cooked in the UK [Consultancy UK, August 2020], states General Mills. "This has now increased to 72% and it is estimated just over 500 million more meals will be consumed indoors every week in 2021 [ibid]," says Jose Alves, senior brand manager, Old El Paso. He also believes that people will continue to enjoy meals together. "Families across the country came together for dinner more frequently in 2020, and this is set to continue into 2021 – we know that 77% of us who have been sitting down to eat with housemates or families plan to carry on making mealtimes more of an occasion."
Mars Food UK agrees that the home cooking trend will continue. "When the nation first entered lockdown in March 2020, we saw in-home consumption of the evening meal move from five times a week to seven times a week, an increase of +40%," says category manager Sarah Buckley. "As we look ahead to 2021, whilst many out-of-home eateries have adapted their offer to continue to trade in the current environment and with the easing of restrictions on the horizon, we expect in-home consumption and home cooking to stay at a heightened level vs pre-covid at an average of six home-cooked evening meal occasions a week."
Norris Family Grocers in Ventnor on The Isle of Wight has also seen an uplift. "Home cooking is up across the board," says owner Wayne Norris. "When the pubs do open again, a percentage of people will be desperate to go out, but others will be cautious about coming out, so I think some people will continue to home cook."
Home cooking has given grocery sales a boost at the Scotch Estate Premier Top Shop in Jarrow, South Shields. "Before lockdown our groceries were selling ok, but now it's really busy because people are at home," says owner Tahir Ali, aka Nico. He claims that lots of ambient lines, including marrowfat peas and jars of hot dogs, have picked up as consumers get cooking.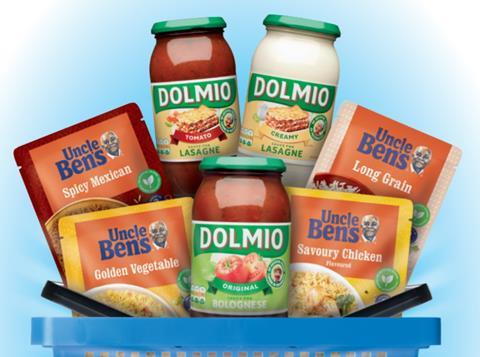 2. World Foods is up 39% yoy within convenience
The world foods category is worth £181m within convenience and is currently growing at +39% YOY, delivering over £30m of incremental sales. (Nielsen Scantrack Foods of The World // Total Coverage Convenience // Total Value Sales 52wk MAT to 09.01.2021).
The two "power-house sub-categories" of world foods are rice and Italian, states Mars Food UK. Together they contribute over half of the total category value and have delivered an extra £10.5m in value sales over the last 52wks (Nielsen Scantrack Foods of The World // Total Coverage Convenience // Total Value Sales 52wk MAT to 09.01.2021). Mars claims to manufacture four of the top five bestselling products in the world foods category. "Uncle Ben's, the No.1 brand within FOTW [Foods of the world], is in +10.4% growth YOY as we continue to meet the up-weighted consumption needs of the nation," says Buckley. "The strong YOY performance has been largely driven by our core 'Ready to Heat' rice SKUs, most notably Golden Vegetable, Basmati and Long Grain."
Rice has been popular at Premier Top Shop. "Happy Shopper Spicy Mexican Rice and Pilau Rice sold out, we couldn't get hold of it in the second lockdown," says Nico.
Dolmio, the No.1 'Italian' brand, has seen +15.5% growth YOY within convenience, according to Mars. "As the nation's favourite in-home cuisine with c.20% share of evening meal occasions, 'Italian' meals have been a mainstay on the weekly meal planner of many households," adds Buckley.
Premier Foods has also seen strong sales of its Italian sauces. "Our brand heartland is in Italian cuisine and we have seen consistent growth ahead of the category (+8.3% year-on-year versus +7.8% for Italian segment)," says Andrey Sokirkin, brand director for cooking sauces and accompaniments at Premier Foods. It claims that UK households cooking a total of 140 million more Italian dishes during the pandemic compared to the same period the year before (Kantar, Usage, 36 w/e 29 Nov 20).
In addition, the firm's The Kitchen Cooking Index shows that 54% of consumers have tried their hand at a 'fakeaway', whether that is cooking a curry from scratch or using products such as stirfry sauces to recreate a takeaway. What is more, nearly two fifths (18%) have made a 'fakeaway' on average at least once a month.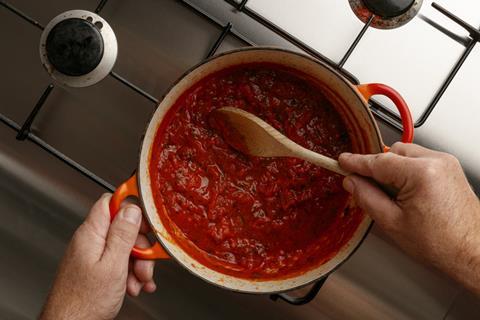 3. Cooking sauces and accompaniments have grown in value by over 16%
"During the course of the various lockdowns, we have seen more shoppers cook from home, and, they are doing so more often," says Premier Foods' Sokirkin. "This has resulted in impressive growth of +16.4% [IRI Groceries, L26W RSV, data to 2nd Jan 2021] for the cooking sauces and meal accompaniments category."
Not only is this owing to existing shoppers purchasing these types of products more frequently, but Sokirkin believes that a large number of new consumers are also buying into the category. Sharwood's had an additional 3.8m shoppers versus the previous year, with 1.3m of these under the age of 45 [Kantar Worldpanel, L26W to 4th Oct 2020]. "The trend for younger shoppers buying into our brands during the pandemic extends to Loyd Grossman and Homepride as well, and presents retailers with an opportunity to make the most of this strong performance heading into the coming months," he says. "Across our Sharwood's, Homepride and Loyd Grossman brands, we saw an additional 6.7m shoppers versus the previous year, with a significant number of them under the age of 45. While it is difficult to predict exactly how the immediate future will play out with the current restrictions, we anticipate that many of these under 45-year-olds will stay engaged with our brands throughout the convenience channel."
Loyd Grossman Indian sauces outperformed the segment last year, with growth of +17.5% year-on-year versus +14.7%. "This showcases the first-hand the opportunity for a premium brand giving people the chance to trade up when shopping the cooking sauces fixture," he adds.
Indian sauces have been big business at Premier Top Shop. "We ran out of Rojan Josh sauce - people are staying at home and cooking," says Nico. "Homepride and Nando sauces ran out too."
Sauce mixes have also proved a hit, according to Cotswold Fayre. "The pandemic really has been habit changing, with consumers recognising that they can buy good quality, tasty food for less, and enjoy it in the comfort of their own home," claims CEO Paul Hargreaves. "The Gordon Rhodes range, including Bish Bash Sausage Cassoulet, Chilled Out Chilli Con Carne, and vegan options V and Easy No Worry Veggie Curry, has proved incredibly popular throughout the pandemic." He claims that these solutions are "proving a popular way to introduce new dishes to the home cooking repertoire."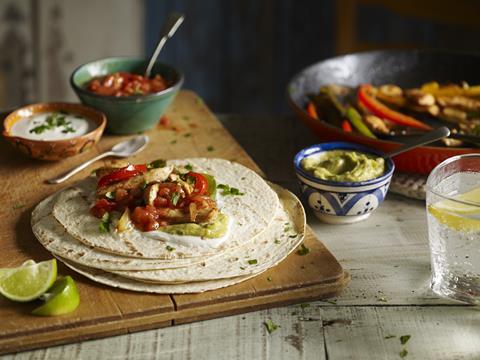 4. Mexican food is hot! hot! hot! with 25% growth in convenience
The Mexican category is up 25.4% in convenience (Nielsen EPOS data ending 26th Dec 2020). "Research shows that Mexican is one of the most likely cuisines to be cooked from scratch [World Foods U&A GCI 2020]," says Alves.
Old El Paso is currently the biggest growth driver for the convenience channel at General Mills, growing at +33.6% yoy (Nielsen EPOS data ending 26th Dec 2020).
Tortillas, taco shells and toppings are growing at 24%, driven largely by the 1m new shoppers entering the category through these products since Covid-19 [Nielsen Scan Track, total coverage Inc. discounters 24.10.20], states the firm. It claims that Old El Paso's vegan-certified Smoky BBQ Fajita Kit is the best-selling SKU. As well as the kit, separates like Tortillas, Smoky BBQ Spice Mix and Cheesy Baked Enchilada kit have all seen recent sales hit over £5m (Nielsen Scan Track GB total coverage incl discounters WE 21.11.20).
The brand's Tortilla Pockets, which launched last September, have delivered a mammoth 79% of all the growth of Old El Paso. "To ensure this success continues throughout 2021, we'll be supporting Tortilla Pockets as part of an outstanding media plan," says Alves. "Overall, our investment will be £6m, making us the biggest world foods spender."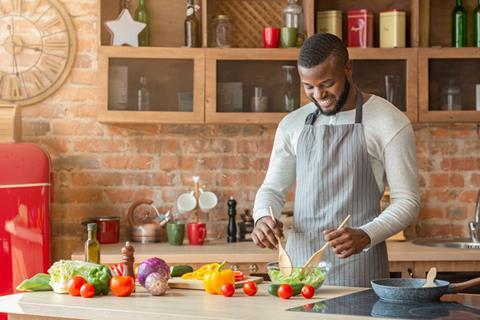 5. 55% of consumers will cook at home this year because of the health benefits
As people have had fewer opportunities to go out socially and be active, the demand for options with reduced levels of sugar or fat has increased significantly, states Premier Foods. The group's The Kitchen Cooking Index report shows that health benefits will drive 55% of consumers to cook at home in 2021. "Consumer demand for healthier choices, for example, has meant our healthier options have seen combined growth of +78% versus a year ago [IRI Groceries, L26W RSV, data to 2nd Jan 2021]," says Sokirkin. "Shoppers have been on the lookout for healthier ways to enjoy their favourite cuisines, such as Indian, Italian and Chinese something our range of sauces and accompaniments has been able to deliver on."
What's more, the company notes that the trend towards vegan and vegetarian meals across the day has continued to grow. According to The Kitchen Cooking Index, consumers have a growing desire to choose ingredients with specific health and other benefits and one of the clearest examples is the rise of meat-free meals. The report shows that plant-based (vegan) meals are up 46% compared to the previous year, and vegetarian up 25% (Kantar Usage panel, savoury foods at lunch/evening meal, in home & carried out, 36 w/e 29 Nov 20 vs previous year).
Kerry Foods concurs. "Shoppers are striving to be more conscious of what they are putting in their bodies, and how this benefits their physical wellbeing and immunity," says marketing & category director Victoria Southern. "As a result, we are seeing a growing number of shoppers opting for meat-free options in store leading to 31.8% growth in the meat-free category last year [IRI data (excludes Discounters) ending 27th Dec 2020]. As such, the meat-free category is now worth £543.5m [ibid]. To cater to this, retailers need to not only stock a variety of proteins such as our Richmond Pork and Chicken ranges, but also meat-free options such as Richmond Meat-Free Sausages."
Nico has noticed that many of his customers are making healthier choices. "People have changed their habits in my area," he says. "A lot of people in the area are on diets."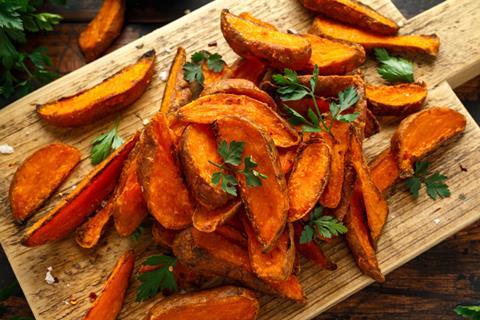 6. Home cooks are craving flavour as demand for seasonings rockets
Seasonings have gone into overdrive as home cooks get savvy with their flavours. Cornish Sea Salt reported growth in convenience with sales in the Co-op up by over a third.
Demand for gourmet salt has grown so much that Tesco now stocks eight different types of this product - ordinary table salt ones for the first time ever. Tesco herbs and spices buyer Paul Curtis says: "The increasing demand is largely down to growing public awareness of the health benefits of scratch-cooking and in turn following chefs and influencers' leads when it comes to seasoning dishes in order to improve the flavour of our food."
Wayne reports strong sales of spices and herbs at Norris Family Grocers. "Herbs and spices across ambient and fresh are all up," he claims. "Normally fresh herbs are something we struggle with because but they have such a short shelf-life, but now people are asking for them week in and week out."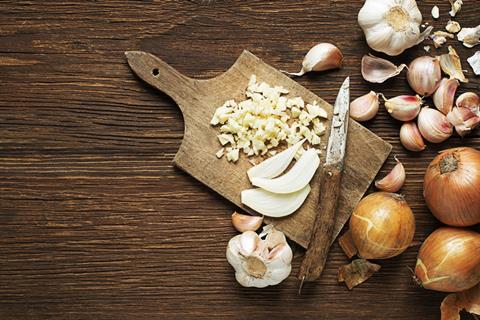 7. Fresh produce sales are thriving with onion sales up 25% yoy
The British Onions Producers Association and UK Brassica Growers Association have seen sales of onions and brassicas soar during lockdown. Retailers are reporting increases of 25% in year on year sales of onions, and in the early stages of lockdown sales were up as much as 70% on previous years, it states.
The Leek Growers Association and The British Carrot Growers Association have also reported strong growth, as has brassica grower TH Clements. "The good news is that greens are now at their most popular for ages and a big part of that boom is the scratch cooking and vegan booms that are currently taking place," says spokesman Richard Mowbray.
Fresh produce has sold well at Premier Top Shop. "In lockdown we've sold a lot of mushrooms and 3-packs of peppers," says Nico. "We've run out paprika pepper. Sales have been busier because people are making their own food."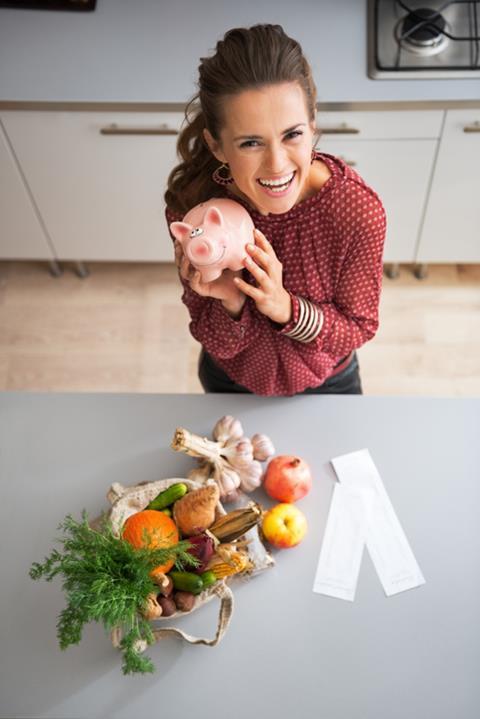 8. Cost saving is the number one driver for home cooking in 2021
Well over half (58%) of consumers claim that the potential cost savings are what will drive them to home cook in 2021, states Premier Foods' The Kitchen Cooking Index report. This was the top driver above health benefits (55%), enjoyment (42%) and spending more time with family and friends (16%).
"This increase in scratch cooking can also be attributed to the return of the frugal shopper as people swap out costly impulse buys and ready-meals for ingredients and make-at-home kits," says Old El Paso's Alves. "41% of consumers have already or expect to have a negative financial impact following Covid-19 [Nielsen Homescan Constrained Shoppers update 12 weeks w/e 31.10.2020] and 84% of households are now actively trying to make savings on their grocery bills [Nielsen Household Survey 2020].
"This is seeing the world foods category continue to grow in grocery and convenience, as it offers shoppers the opportunity to cook something outside of their standard repertoire, while also being economical. Through scratch cooking world cuisine, consumers can see savings of up to £570 a year [World Foods U&A GCI 2020]."
Nico appreciates that many people will opt to cook, rather than spend money on prepared meals. "A lot of people have lost their jobs, not everybody has money to get a takeaway - that'll set you back £12, £13, when they can come to the shop and buy curry sauce and peppers for much less," he says.

Sarah is Deputy Editor for conveniencestore.co.uk.