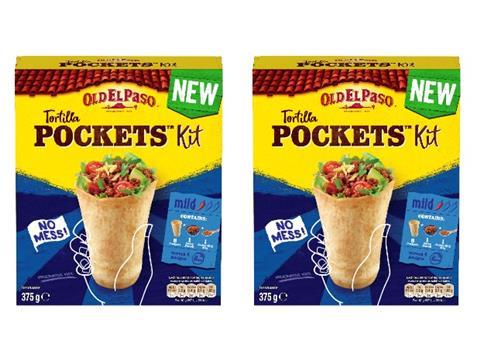 Old El Paso has launched new Tortilla Pockets, aimed at expanding into the lunchtime meal market.
The wraps are sealed at the bottom to offer a 'first-to-market, mess-free solution to mealtimes'.
Offered as part of a meal kit or a standalone split pack of eight, the pre-formed tortillas are designed for a quick bite on-the-go or a mess-free dinner with kids.
Old El Paso has planned a significant media launch for Tortilla Pockets, with a 360⁰ campaign worth £2m. A new TV and Video on Demand creative will air from 28 September, supported by social media and influencer campaigns. The ATL media is planned to reach 88% of Old El Paso's target audience in October. The brand has also planned shopper activation both instore and online, ready for shoppers to 'launch into mess-free Mexican'.
Old El Paso marketing manager Maeve Judge said: "With more and more shoppers entering the World Foods aisle, it's an exciting time for the category – and a very exciting time for Old El Paso!
"Tortilla Pockets have been three years in the making, so we're thrilled to finally bring them to market. Given the levels of excitement that we saw while working through consumer research to develop the perfect product and packaging, we are confident it's truly anchored in solving a consumer need.
"For us, Mexican is all about connecting over food – using your hands, sharing the experience, and making good noise while you're doing it. Tortilla Pockets will allow people to do just that – minus the mess."