Dr. Oetker has launched three new traybake kits to bolster its extensive range of baking products.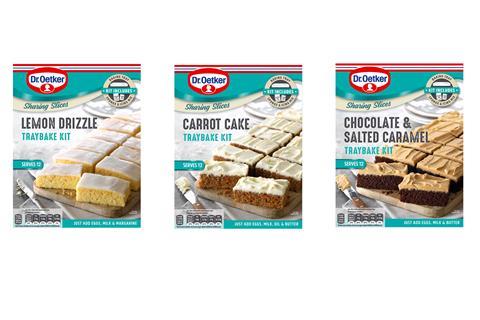 The kits are designed to make baking more convenient and contain frosting, a baking tray and a cake mix.Available to convenience stores and independents, each one requires the addition of eggs, milk, oil and butter.
The trio of mixes can be used to create 12 portions of cake, encouraging shoppers to use the products for special occasions or as a mid-week sweet treat
The lemon drizzle kit (375g / rrp £2.50 / case size: 4) includes a sponge mix, baking tray and lemon drizzle icing, while the carrot cake kit (425g, rrp £2.50 / case size: 4) contains all the same elements with cream cheese icing.
Finally, Dr Oetker's chocolate & salted caramel kit (425g / £2.50 / case size: 4) consists of a chocolate sponge mix, baking tray and salted caramel icing.
Jen Brown, head of marketing for cake & dessert at Dr. Oetker UK, commented: "Typically the UK's favourite cake flavours are only found in whole cake mixes, which are generally suited for celebratory occasions. We wanted to launch something that was more versatile for modern meal times and can still be used for special events and everyday snacking.
"These three traybake mixes allow consumers to bake their favourite treats and share them at bake sales, in the office and with their loved ones. They are also the perfect addition to lunchboxes for a delicious lunchtime snack. We're confident these will be a hit with home bakers of all abilities."