Scottish store owners who install reverse vending machines (RVMs) under the impending Deposit Return Scheme will not face a hike in business rates, first minister Nicola Sturgeon has announced.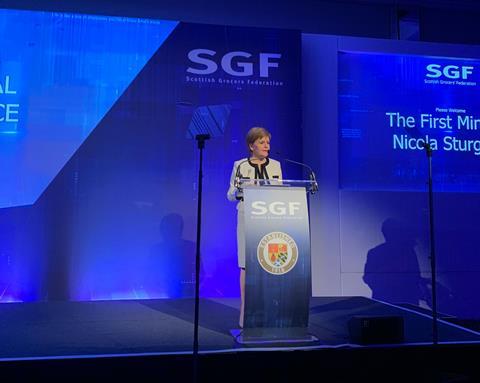 In May, the Scottish government announced plans for a Deposit Return Scheme which would see all shops that sell bottles or cans of drink reimburse customers 20p per returned container.
Stores will be required to install RVMs or collect empty containers over the counter, but retailers can also apply for an exemption if nearby stores offer a DRS facility.
Speaking at the Scottish Grocers' Federation (SGF) annual conference in Glasgow, Sturgeon said: "The consequences of our throwaway culture can be seen in our streets, our countryside and our waters. But as well as being a depressing eyesore, the damage it causes our environment is irreversible.
"We recognise the global climate emergency and the need for everyone to work together to improve the lives of current and future generations. Retailers will be critical to the success of our planned Deposit Return Scheme and by introducing rates relief, we are supporting them to play their part.
"Retailers are already taking steps to reduce packaging and I look forward to the introduction of this scheme and the positive change in behaviour it will lead to."
SGF chief executive Pete Cheema said: "We have made a very strong case for this rates relief and we are proud to say that the Scottish government has listened and delivered something of real benefit to the industry."
The announcement guarantees retailers will not pay higher rates, rather than receiving money off, the SGF said.