A Deposit Return Scheme (DRS) for Scotland will include glass, plastic and aluminium drinks containers of all sizes and will apply to all retailers, the Scottish government announced on Wednesday (8 May).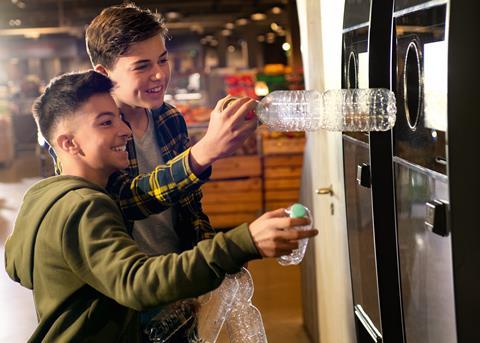 Environment secretary Roseanna Cunningham said all businesses that sell drinks would be required to accept returns under the DRS model. A deposit refund level of 20p has also been set following consultation.
The minister said retailers would have the "flexibility" on whether to collect returns via a Reverse Vending Machine (RVM) or manually over the counter.
Producers and retailers would be expected to set up a not-for-profit organisation to run the scheme, Cunningham said.
Responding to a parliamentary question on how c-stores could accommodate the storage of glass, she added: "We are committed to testing different storage and collections arrangements."
The DRS will not initially include HDPE (High Density Polythene) plastic, usually used for milk containers, but it may be introduced at a later stage.
The minister said she aimed to deliver the legislation in the current parliamentary term, which ends in May 2021. There will be the opportunity to comment on the proposed approach when draft legislation is published later this year.
In England, Defra's DRS consultation ends on Monday 13 May.
Industry reaction
The Scottish Grocers Federation (SGF) said it was "massively disappointed" that smaller stores would not be exempt and that glass would be included within the scheme.
"The aim should be to create a system which benefits local shops and communities. We will fully engage with the parliamentary process to ensure we fully inform and influence MSPs on these key issues," SGF chief executive Pete Cheema added.
Association of Convenience Stores chief executive James Lowman said: "The Scottish government is designing a deposit return scheme that won't be safe, clean or practical for small retailers. Manual handling of packaging in small shops will lead to huge challenges, with a lack of space to store returned containers, hygiene problems from handling dirty containers, staff having to deal with hundreds of returned containers every day, and as a result queuing and disruption to the daily running of stores.
"Requiring all retail outlets, including small shops, to act as a return point is an inefficient approach - we continue to argue that return points should be strategically mapped based on consumer need and controlling the costs of operating this network."
The Scottish Wholesale Association (SWA) also expressed disappointment that the DRS will not exempt smaller retailers and that it will include glass, "presenting a range of health and safety implications as well as logistical challenges".
The SWA also rued the absence of a UK-wide solution which would have saved its members and Scottish businesses "the burden of cost, logistics and segregation that a Scotland-only system will cause".
SWA chief executive Colin Smith said: "It is disappointing that the Scottish government wants all retail outlets, including small shops, to participate in a scheme that will disrupt stores and lead to some streets and communities having far too many automated and manual return points."
While welcoming the decision not to include milk containers (HDPE), the SWA warned that its members' retail customers would face considerable challenges complying with the current DRS design.
But retailer Mo Razzaq, who has installed a RVM in his Family Shopper store in Blantyre, said the announcement was "long overdue".
"I had a feeling glass would be included in the scheme, and I can see the government's logic," he added. "A lot of littering comes from glass bottles. We'll have a new RMV within the next week which will take glass.
"Ultimately it's all about the system and how we'll be handling the materials."
RVM manufacturer TOMRA also welcomed the announcement. "Based on our global experience we fully support the deposit return scheme format announced today by the Scottish government. Creating a scheme that makes it as easy to return as it is to buy will help see the return of over 90% of drinks containers for recycling within just two years of being introduced in Scotland," said Truls Haug, managing director of TOMRA Collection Solutions UK & Ireland.
He said TOMRA would have a small footprint machine for convenience stores, that can accept PET, cans and glass, ahead of the Scottish rollout.